A Swim with Nature...
By Audrey Goh

Iím sure each one of us have always wished to do something different... at least once in a lifetime. That one moment would be a memory to be cherished from now till generations to come. Dreams like these could come in different shapes and sizes. It all depends on how you look at it, on your priority, and on your expectations. This is my one moment in life.

March 1998: Bay Of Islands, New Zealand. It was a bright sunny morning when I set sail with 20 other travelers to the middle of nowhere. It was a breezy day and I felt cold. But the shivers were not from the wind; it was from anticipation and excitement. It would be my first touch with nature at its best although the charges were rather stiff - about NZ$80 per person. Steve, our tour guide, runs a modern and well-staffed two-boat operation twice a day each season. Business was always good for him, with tourist from all various backgrounds and ages clamoring for that one moment to do something that cannot be done elsewhere.

As the boat headed out that chilly morning, we were all given a briefing of the dos and doníts when approaching the dolphins. Other information was provided as well. Then, each of us was given a wetsuit to ward off the cold waters, followed by a mask and a snorkel.

When ready, each of us slipped into the deep waters. It was a thrilling experience. The water was so cold and breathing was difficult as it took some time adjusting to the snorkel. Once I settled in, I could see how crystal clear the waters were, with the purest blues like the skies above us. We floated around gently on the lookout for that first indication. Suddenly, shooting out of the waves were two silvery dolphins. They swam straight at me only to swerve away sharply moments before any possible collisions. They disappeared into the waters and disappointment set in. Before I realized it, they surfaced again, studying us with fearless curiosity.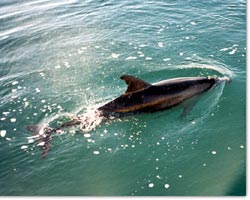 These playful animals are such wondrous creatures. They showed off, doing flips and twirls in and out of the water, teasing us to play catch with them. I swam with them, played with them, and touched them! The feel of their velvety skin on my hand is simply out of this world. I was ecstatic. Such an effortless playtime; playing with wild dolphins whilst gliding easily through the cold water with the warm sun on my back. It was a truly fantastic feeling!
And then I realized that this was it! The one moment in time when I am in tune with nature, where life suddenly held a different meaning altogether. These are the few things that make life worth living. The simplicity of it all...