| | |
| --- | --- |
| | Transport |
By Air
Macau's first and Asia's newest airport opened for operations in November 1995. The airport is competent of handling Boeing 747 long haul flights to North America, Europe, Oceania, and Africa. A total of 15 regular airline companies, including Air Macau, the territory's flag carrier, serve the Macau International Airport flying to 24 cities, 16 of which are in mainland China.
A new service "Express Link", which began in May 1998, facilitates the procedures for passengers flying to and from Hong Kong on Air Macau via Macau International Airport.
Helicopter services are also accessible in Macau. East Asia Airlines operates around 16 helicopter round-trips a day using helipads on the Macau and Hong Kong Ferry terminals. Flights take approximately 20 minutes in the eight-seat aircraft. Inquiries can be made at the helicopter counter on the second floor of Macau Maritime Terminal (Tel: (853) 790-7240), as well as the helicopter counter in Hong Kong at No.9, third floor of Hong Kong Shun Tak Centre, which is in front of STDM Service Department (Tel: (852) 2859-3359).
By Land
Getting into Macau from China is also possible through the 'Barrier Gate', which opens daily from 7 a.m. to midnight. It is convenient to travel to and from China through this entrance.
Getting Around
By Taxi
There is an abundance of taxis in Macau that are both cheap and comfortable. Fares start with a minimum charge of MOP$9. To make it easier, try to have your destination written in Chinese or point out your destination on a map. Some taxi drivers keep a list of hotels, tourist spots, and the like in their car compartments. Normal taxis are black with cream colored roofs. Yellow colored taxis can be radio-called at 519519.
By Bus
The Transmac and the TCM are two companies that provide public transport services in Macau. More than 40 scheduled routes that cover almost the whole territory are available. Rates vary from MOP$2.50 to $6.00.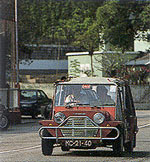 By Car Rental
There are a few car rental services available in Macau. Mokes and a variety of cars are available for rental. Drivers should be over 21 and hold a valid international driver's license.