| | |
| --- | --- |
| | Special Interests |
Australian Football League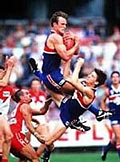 The game Australian Football League or Aussie Rules, is a unique combination of Rugby and Gaelic Football. Originating from Melbourne, this game used to be played by miners on the Victorian gold fields in the 1850s. Tom Wills, a brilliant cricketer, his cousin H.C.A. Harrison, W.J. Hammersley, and J.B. Thompson devised this new game, and the first recorded game between Scotch College and Melbourne Grammar School took place on August 7, 1858. The set of game rules was altered many times after this game, but the Geelong Football Club was formed in 1859 and new rules was put in place in 1866.
The Victorian Football League was established in 1896. In 1996, the League celebrated its centenary under the name of the Australian Football League. This game may be virtually foreign outside of Australia but in Melbourne, it is estimated that one person in 16 attends an AFL game and thousands more follow the saturation TV coverage each winter Saturday in Melbourne. Almost 80,000 spectators have attended premiership games while 121,696 was the official attendance record for the 1970 grand final between Collingwood and Carlton.
Today, the AFL grand final is one of the greatest sporting events in Australia, rivaling an English FA Cup Final or an American Super Bowl for color, passion, and atmosphere.
Cricket

Australians also welcome the internationally well known game, cricket. This game was already popular since more than 100 years ago and many internationally recognized star players have emerged, among them the legendary Donald Bradman. Bradman is associated to cricket just as Pele to soccer and Babe Ruth to baseball. His top score 452 at the Sydney Cricket Ground in 1929 has remained the highest score in first-class cricket for over 60 years.
A game of cricket is played by two teams of eleven players each. A formal game of cricket can last from an afternoon to several days. The basic concept of cricket is similar to that of baseball whereby each team bats successive innings and attempts to score runs, while the opposing team fields and attempts to bring an end to the batting team's innings. After each team has batted an equal number of innings, the team with the most runs wins. The game's equipment includes the cricket ball, bat, and wickets, which are wooden structures made up of a set of three stumps topped by a pair of bails. Players wear protective gear such as helmet, gloves, and pads. Clothing will involve long pants and a short or long sleeve shirt.
Surfing
As most Australians live only a short distance from the coast, "The Beach" activities naturally becomes a way of life for many. Surfing has always been a national sport with regular carnivals and competitions held on its coastline. Major competitions include the Billabong Pro, Rip Curl Pro, Coca-Cola Margaret River Masters, and the Coke Classic.
Surfboards are used to ride the waves and were made out of wood in the early days. However, light fiberglass and bright colors are now used to improve speed and visibility.
The best surfing to be found in Australia includes the Manly and Bondi Beach in New South Wales, Surfers Paradise at the southern Queensland coast, Bells Beach in Victoria, and the south coastline of Western Australia.
Scuba Diving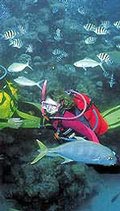 Given Australia's beautiful and stunning World Heritage listed Great Barrier Reef, it is impossible for people to not want to see all those beautiful corals and underwater marine life. Play with whales, seals, and see superb coral walls. Additionally, places such as Darwin will also give you access to spectacular and adventurous trips to see sunken war ships and buildings caused by World War II and Cyclone Tracy. Diving is the only way to explore the beautiful wilderness of the ocean depth. The beauty is boundless yet within your reach.
A diving license is required before one can go diving. To obtain a license, enroll with a diving school, go through the course, and if you pass the course, you will earn yourself a ticket to the underwater haven. To scuba dive, you will need a mask, snorkel and fins, and a snorkel tank.
Bushwalking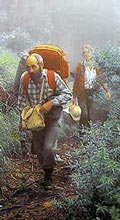 Bushwalking is another favorite activity for Australians. Apart from feasting and soaking in the tranquility of rainforest and the exotic wilderness, one can also take the opportunity to exercise physically and increase fitness level. For your first walk, you will need to pack some lunch, some munchies for morning and afternoon teas, at least 2 liters of water, hat, toilet paper, trowel, and most importantly a first aid kit, all packed into a small bag. Your leader will also brief you on the "shoulds" and "shouldn'ts" for the trip and guide you through the wilderness safely.
So, be on your way to enjoy nature's greatest creations and masterpieces.
Skiing

For some, skiing and snowboarding may be just pure fun, but for others it is their religion. Since a long time ago, skiing has been a popular winter sport for many Australians, and snowboarding has also caught up in recent years. The most popular place to ski in Australia includes the Snowy Mountain region in New South Wales where you will find two of Australia's largest ski resort, the Thredbo and Perisher. Victoria also has its own ski-fields with challenging steep ski runs at Falls Creek and Mount Hotham to the more gentle terrain at Mount Baw Baw. The best time of the year to go skiing is between the months of June and September. Accommodation at the mountains ranges from hostels to designer apartments to seductive open-fire lodges. Resorts also provide ski equipment for hire as well as coaching courses.