| | |
| --- | --- |
| | Food |
Hawker Centres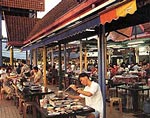 Hawker centers are popular eating places. They are places where you will find an authentic variety of Chinese, Malay, and Indian treats. Not only are they served hygienically, but they are also very affordable. Dishes can be as low as S$2 or S$3per plate.
Hawkers will usually display their food specialties at their stall through photographs or actual dishes. This will only make things easier for the visitor who may not know what to order.
The tables in hawker centers have numbers on them. When ordering, simply inform the hawkers of your table number and they will then bring the food to you. However, do note that there are self-service stalls, which will require you to bring your ordered dishes to your table.
If there are no other vacant tables, sharing one with strangers is not a problem at hawker centers, food courts, and traditional coffee shops. In fact, it can even be a good way to ask others about their favorite food or stall.
Eating at hawker centers is quite convenient. Visitors will notice that most Singaporeans do eat at these places. They are very affordable yet tasty! Most hawker centers are located in the suburbs of Singapore, such as in housing estates. Clarke Quay and Bugis Street are two hawker centers that are located near the city.