| | |
| --- | --- |
| | Special Interests |
Situated in the Phitsanulok Province, 377 km north if Bangkok, this national park has several slabs of smooth, rounded cobbles which are moulded from sandstone by centuries of wind and rain. The inaccessible Mon Daeng Waterfall crashes down the 32 steps it has chiselled into the mountainside over many hundreds of years. Communist rebels used this area as their hideaway in the 1970s. popular activities here include trekking to view the numerous orchids and lichens on the wooded slopes and deep ravines.
Doi Inthanon National Park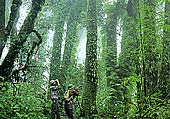 The highest peak in the country at 2,565 metres, Doi Inthanon is also a national park forming the southerly and of the Shan mountain range and the source of several rivers. Located in Chiang Mai province, the park has flora and fauna not seen in other parts of Thailand. Two Hill Tribes, the Karen and Hmong have settled here. Trekking is recommended to observe the fauna and flora. Some 364 different species of birds can be found here, also butterflies. There are camping grounds and the best time to visit is between November and February.
Thung Salaeng Luang National Park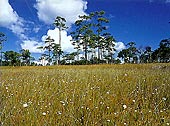 Another national park of open fields surrounded by dry oak forests and stately pines. Thung means "field" in Thai, though the fields in this national park lying in the Phetchabun Range are neither fully cultivated nor totally wild. Kaeng Sopha waterfall, one of three spectacular staircase waterfalls in Thung Salaeng Luang, thunders down a series of steps before reaching the calm Savannah forest below. The meadows at Non Son and Nang Phaya are fully of interesting flora and fauna. This pride of the Phetchabun Province offers visitors the opportunity of trekking as well as biking.
Mae Surin National Park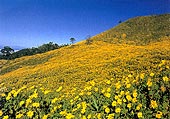 A national park in Mae Hong Son Province on the Doi Mae Ukor, Mae Surin National Park is blessed with waterfalls and a vast field of wild sunflowers (bua thong) which bloom in November. You can visit a Hill Tribe in Khun Yuam district. However getting to this national is in itself a challenge as Mae Hong Son Province is over 900 km form Bangkok and can be reached by air and then by road to Khun Yuam district and on a further 90 km to Doi Mae Ukor.
Khao Yai National Park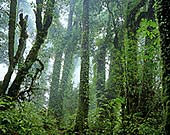 Covering Saraburi, Nakhon Ratchasima, Nakhon Nayok, Prachin Buri and Sra Kaeo provinces, this is the largest north-eastern forest in Thailand. The park's mountains are watersheds for several waterfalls. It is one of the best refuges in Thailand for animals and birds sin the wild and remains the most likely spot to see wild tiger or elephant. Visitors can avail themselves with trekking, bird and butterfly watching, animal spotting (elephants and tiger), raft riding and camping.