Delima Redang Resort
Address :
Pantai Teluk Kalong Besar , Pulau Redang, 20000 Terengganu,Malaysia
Star Ratings :

View More Hotel in :
Redang Island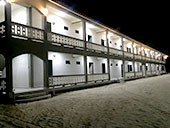 Delima Redang Resort Redang Island Overview
Pulau Redang is a world famous tourist destination offering pristine clear blue waters, sandy white beaches and sunny sky. Among on of the best beaches in Redang is where Delima Redang Resort is located. Our private beach provides guests with privacy and unspoiled designed result overlooking its powdery white sandy beach

For a well-earned respite from cares of modern-dayliving, Redang Island is just the ticket for a PERFECT GATEWAY! The Ayu Mayang Resort on Redang is conceived and specifically landscaped to be in harmony with the natural surroundings. Its timber based "kampung" style structures are designed to complement the island's rustic charm.
Located at a popular stretch on eastern side of Redang. The Ayu Mayang Resort, which overlooks the clear turquoise waters of a beautiful bay, nestles amidst gentle swaying palm groves.

Travel Packages available for Delima Redang Resort Redang Island :
Delima Redang Resort Redang Island Location & Nearby Attraction

Enlarge Delima Redang Resort Redang Island Location Map
How to Get There
From Kuala Lumpur, Malaysia's capital city, MALAYSIAN AIRLINES has 4 daily departures - 2 from the Kuala Lumpur International Airport and 2 from Subang Airport. Kindly contact the relevant airlines for detailed flight schedules.
Kuala Terengganu is accessible by road from Kuala Lumpur. Air-conditioned luxury coaches are available daily A self-drive journey could also proved to be a pleasant experience. Overland journey from Kuala Lumpur would take approximately 8 hours.
Redang Island is easily accessible via Merang, a fishing village located about 40 kilometers north of Kuala Terengganu. Shuttle speedboats ply between Merang and Redang Island daily. The sea journey from Merang to Redang Island would be approximately 1 hour
Delima Redang Resort Redang Island Room & Accommodations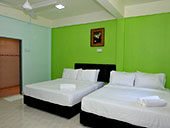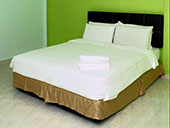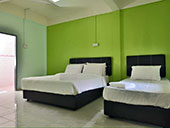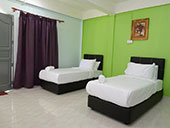 Our clean and cosy rooms, exuding an air of intimacy and informality, come equipped with all creature comforts that our guests are ever likely to need.
Currently, the Ayu Mayang Resort has five family and eight standard sea view chalets. All rooms are air-conditioned with en-suite facilities.
Guest Room Facilities:
Family rooms are designed for a couple with one to three child housed comfortably with a king-sized double bed, one single bed and two extra beddings in the loft for the extra lodgers.
Double rooms are designed for a couple with a queen sized double bed and also has a loft to house two extra lodgers.
Standard rooms have two single beds to accommodate two friends and also have a loft to house two extra lodgers.
Delima Redang Resort Redang Island Facilities & Services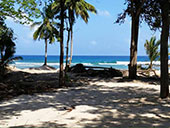 Facilities:
Indoor games
Jungle trekking
Fishing
Beach games
Boat tours
Recreational Facilities:
Recreation
Snorkerling, Diving, Jungle Trekking, Conoeing, Round Island, Camping, Fishing & etc.
Guest Services
Convenience Store, Telephone and Facsimile.
Delima Redang Resort Redang Island Dining & Entertaintments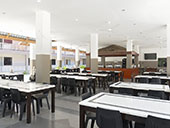 Restaurant
Restaurant
The Restaurant offers not only a wide selection of culinary delights, but also an impressive view of the sea and the soothing caresses of gentle breezes.

Important Notes of Delima Redang Resort Redang Island:
Check - In Time : 14.00 p.m
Check - Out Time : 12.00 p.m
The images shown are for guidance purposes only. You may stay in a room which is different from the examples shown.
Add Hotel to online bookmark :