| | |
| --- | --- |
| | Shopping |
Orchard Road Vicinity
There are many other shopping complexes located outside Orchard Road. Shopping in these places is just as interesting as shopping in Orchard. It is possible to walk from Orchard to these various malls.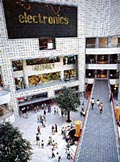 Raffles City Shopping Centre
Part of the Raffles City Complex that was designed by world famous architect I. M. Pei, this shopping center houses two hotels, a convention center, a variety of restaurants, and a Japanese department store. Specialty shops and counters are also available.
Raffles Hotel Arcade

There are about 70 retail shops situated on two levels in the Raffles arcade. Top international brand names are brought together to present high fashion, exclusive jewelry, timepieces, leather goods, silk, pewter, antiques, and many more. Several art galleries and antique shops at the Raffles Arcade are also worth visiting.
Shaw Leisure Gallery
Located near Raffles City Shopping Centre, the Shaw Leisure Gallery features several specialized boutiques. It is an especially good place to buy leisure and sporting wear. A number of unusual shops selling items from collectors' comics to computer and electronic games can also be found here.
Marina Square
Marina Square has an area about the size of seven football fields. Flanked by two huge department stores, shoppers can look forward to quality shopping of all kinds of products. There are three levels of shops that include home furnishings, specialist designs, and art bookshops. It also offers duty free shopping.
Suntec City Mall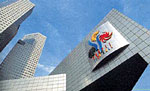 This 78,000 sq. meter complex is the largest shopping mall in Singapore. It is divided into four thematic zones: Galleria, Tropics, Entertainment Centre, and Fountain Terrace. The Galleria has a wide selection of famous brand names and souvenir shops. Tropics presents specialty shops that offer home furnishings, casual wear, and leisure products. The Fountain Terrace offers a variety of food outlets, whereas the Entertainment Centre features five cinemas and a Virtual Reality Theme Park.
Stamford House
A beautifully restored Victorian complex, the Stamford House offers splendid interior design or decoration ideas and items, as well as an art gallery.
Funan Centre
It is a good choice to visit Funan Centre for those who are interested in computers and computer-related products. A great part of this complex is given over to computer hardware, software, and information technology products. The remaining part of the center houses a major Japanese department store that offers a wide range of clothing and household goods.