| | |
| --- | --- |
| | Transport |
Getting There
By Air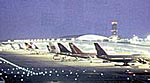 No matter where you are, it is not difficult to get a flight to Japan. There are flights to Japan from almost anywhere in the world. The primary disembarkation point would usually be Tokyo, but occasionally one of a number of other Japanese airports is used. There are international airports on the main island of Honshu (Nagoya, Niigata, Osaka and Tokyo), Kyushu (Fukuoka, Kagoshima, Kumamoto and Nagasaki), Okinawa (Naha) and Hokkaido (Sapporo).
By Sea
Pusan-Shimonoseki
The Pusan-Shimonoseki ferry route is the cheapest route between South Korea and Japan, and no doubt, one of the most popular as well. The Kampur Ferry Service's vessels Kampu or Pukwan leave Pusan at 6 p.m. and arrive in Shimonoseki at 8:30 a.m. the next morning. Availability: Daily
Pusan-Fukuoka
The JK Line Hydrofoil is an ultra-fast hydrofoil service. The journey which takes just three hours costs about US$120 single, and US$220 return.
The Camellia-line ferry service takes around 15 hours from Pusan to Fukuoka at a cost of US$85 single, US$120 return. Availability: Daily
China
There is a weekly ferry service that connects Shanghai to Osaka/Kobe. The ferry's destination alternates each week between Osaka and Kobe. The journey takes two days. A second class ticket on this Japan-China International Ferry Service costs about US$180.
There is another weekly ferry service called the Shanghai Ferry, which connects Osaka and Shanghai. Tickets are similarly priced. There are also ships from Nagasaki to Shanghai every Thursday. Visitors wanting to go to Tanggu (near Tianjin) from Kobe could get on the ship that leaves Kobe every Thursday at noon. The ship reaches Tanggu the following day. Economy and first class tickets cost US$200 and US$300 respectively. You can get your tickets in Tianjin from the shipping office (Tel: 31-2243) at 89 Munan Dao, Heping District. In Kobe, the office is at the port (Tel: 078-321-5791).
Taiwan
Ishigaki, Miyako, Keelung and Kaohsiung. If you are travelling to any of these cities, you can take the weekly ferry service, which operates between Taiwan and Okinawa.
Sometimes, the route goes via Ishigaki and Miyako in Okinawa Prefecture. The Taiwan port alternates between Keelung and Kaohsiung. Departure from Okinawa is on Thursday or Friday; departure from Taiwan is usually on Monday. The trip takes 16 to 19 hours.
By Rail
Tran-Siberian Railway
A little-used option would be the Trans-Siberian Railway. However, if you are in a rush, it is better to seek another alternative as visas and bookings take a long time. On the other hand, if you have time to kill and would like to avoid paying for expensive flights, the Trans-Siberian Railway is an attractive option.
There are three routes involving the Trans-Siberian Railway :
1) Travel directly across Russia and take a flight from either Vladivostok or Khabarovsk - a rather expensive option.
2) The Chinese Trans-Mongolia route ends in China. From there, you can get the connecting ferry services to Japan via Tianjin and Shanghai. This is a cheaper option.
3) The Russian Trans-Manchuria route also ends in China. As per the Chinese Trans-Mongolia route, you can get to Japan by ferry via Tianjin and Shanghai. Also a cheaper option.