| | |
| --- | --- |
| | Entertainment |
Nightlife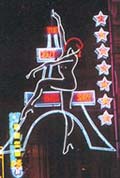 Those who do not take pleasure from gambling may choose to walk the city streets and visit some of the many nightclubs around. Night entertainment ranges from soft lights, sweet music and charming hostesses at some establishments, to lively music. Karaokes are also available for the avid entourage of singers. Rooms can be rented but they are rather costly. Daredevil individuals can share a karaoke machine with other guests in open lounges. Most four and five star hotels have bars featuring live music and animation programs on selected nights.
Some interesting night spots are:
China City
Jai Alai Palace, 1st/Fl., open from 2 p.m. to 4 a.m.
Guia Disco Nightclub
Hotel Guia, open from 9 p.m. to 4 a.m.
Portas do Sol Supper Club
Hotel Lisboa, 2nd/Fl., old wing, opens at 7 p.m. and closes at 1 a.m. on weekdays and 2 a.m. on weekends
Skylight Disco and Nightclub
At Hotel Presidente, 2 nd/Fl., open from 6 p.m. to 4 a.m.
Ritz Night Club
Jai Alai Palace, top floor. Open 9 p.m. to 4 a.m.
Karaoke Lounge
Basement 1 of Hotel Royal, open daily from 8:30 p.m. to 3 a.m.
Bar da Guia
Mandarin Oriental, G/F, with live music and dancing every night from 8 p.m. to 1 a.m. except Mondays. Happy hours from 5 to 7 p.m.
Metropolitan
Century Hotel, open from 8 p.m. to 6 a.m.
Casino
In total, there are nine casinos in Macau. All operate under Government franchise by the Sociedade de Turismo e Diversões de Macau (STDM) and rules are standard in all gaming halls. With the exception of the Victory Casino in the Macau Jockey Club, all casinos operate round the clock.
Macau's casinos offer the largest variety of casino games in the world, combining both established western favorites with long popular eastern games of chance. Players can opt for such games as blackjack, baccarat, roulette, boule, "big and small", fantan, and keno. Or they can choose from a glittering array of slot machines (called "hungry tigers" locally), which are computer-linked for super jackpot pay-outs.