| | |
| --- | --- |
| | Shopping |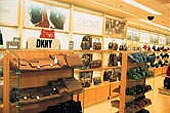 Like Hong Kong, Macau's most popular buys are jewelry (particularly gold), Chinese antiques, porcelain, pottery, electric gadgetry, cameras, watches, beading work, and knitted wear. They are available at duty free prices, as Macau is a free port. Hence no sales tax is charged, but bargaining is common for many items.
When shopping for antiques, jewelry, and gold, it is better to patronize recommended shops rather than street stalls. Do not expect to buy treasures for a mere trifle from souvenir stalls such as those located at St. Paul's, the Border Gate, and Penha Hill. Obtain a warranty card and receipt for jewelry, gold, cameras, watches, and electrical goods for all purchases, and be sure that you understand what is written on them.
Knitted-wear and locally made clothes can be purchased at economical prices at many street stalls near the S. Domingos market (near Senate Square) in the mornings and in Rua da Palha. Other popular buys are Chinese herbs and medicine, dried seafood like shark's fins, abalone, and Chinese and Macanese pastries.
The main shopping area is located along the Avenida do Infante D. Henrique and Avenida Almeida Ribeiro, São Domingos Market, Rua da Palha, Rua do Campo, and Rua Pedro Nolasco da Silva. For those "in the know" for antiques and buried treasures, Macau's flea market is on the lanes around the Rua das Estalagens (near St. Paul's Ruins).
Visitors can call the Tourist Assistance Unit should they have any complaints.