| | |
| --- | --- |
| | Travel Tips |
The pataca (composed of 100 avos) is the official unit of currency. It is pegged to the Hong Kong Dollar at almost the same value. Nonetheless, HK Dollars are widely accepted. Patacas are available in coins and banknotes in denominations of 10, 20, and 50 avos, as well as 1 and 5 patacas (coins) and 10, 20, 50, 100, 500 and 1,000 patacas (notes).
Macau offers visitors the convenience of modern banking. Licensed banks, finance companies, and Automated Teller Machines (ATM) are available throughout the country. Any ATM exhibiting Visa, MasterCard, or America Express symbols will be able to provide cash withdrawal services.
The region's central bank is The Monetary and Foreign Exchange of Macau. Banking hours are from 9:30 a.m. to 4:30 p.m. on Mondays to Fridays, and from 9:30 a.m. to noon on Saturdays.
Foreign currencies can be exchanged in any of the hotels, banks, and licensed moneychangers that are widely available in the city. The Macau International Airport also has a 24 hour automatic currency exchange service.
Macau is eight hours ahead of GMT.
Since Macau's climate is mild, there are no endemic diseases. International Inoculation Certificates are normally not required unless cholera has been detected in either Hong Kong or Macau or in the area recently visited by the visitor.
There are two hospitals in Macau with a total of 984 beds. Health centers are also available with seven in Macau, one in Taipa Island, and one in Coloane. All four and five star hotels have in-house medical facilities.
Postage System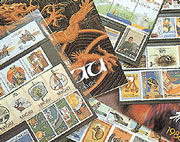 Macau has developed its postal services to the highest international standard. The General Post Office is located at Leal Senado Square. It is open from 9:00 a.m. to 5:30 p.m. Mondays to Fridays and from 9:00 a.m. to 12:30 p.m. on Saturdays.
There are post offices, open from 10:00 a.m. to 8:00 p.m. Mondays to Saturdays, at the Macau Jetfoil Terminal and Macau International Airport. The Macau Postal Services have 15 automatic vending machines in different parts of the city. Most hotels offer postal facilities for guests' letters and packages, as well as packing services.
What to wear
Cotton or light clothing is recommended for the summer. Woolen clothing and a topcoat may be required for the winter. Sweaters and jackets are sometimes necessary for the cooler evenings from March to May and September to November.
Safety
Macau is relatively a very safe place. However, one should be careful of pickpockets. There are police stations and reporting centers throughout the territory. For emergency, dial 999.