| | |
| --- | --- |
| | Popular Places |
Batu Caves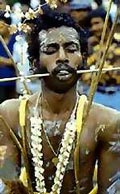 First discovered over 100 years ago, Batu Caves have never ceased to attract visitors. Only 13km from Kuala Lumpur's central business district and just outside the city limits, these famous caverns are easily accessible. Formed within the framework of an imposing limestone outcrop about 400 million years ago, Batu Caves actually consists of three main caves and several smaller ones. The best known of these is Temple or Cathedral Cave.
Temple Cave has a ceiling looming over 100 meters overhead and features ornate Hindu shrines. To reach it, one has to climb 272 steps, a feat performed by many Hindu worshippers on the way to the caves to offer prayers to their revered deities.
During the annual Thaipusam (Hindu festival in honor of Lord Murugan) between January and February, as many as 800,000 devotees and other visitors throng the caves and make this climb. Chanting devotees carry a statue of the deity, Lord Murugan, up the 272 steps that lead to the shrine. As a form of penance or sacrifice, entranced worshippers carry a Kavadi, which is a large, elaborately decorated wooden frame. The Kavadi is attached to their flesh (e.g. skin, cheeks & tongue) with a variety of sharp skewers and metal hooks, to no apparent discomfort or pain! Accompanied by the incessant beat of Indian drums and shouts of encouragement, the procession is testimony to the power of religious conviction.

A little below the Temple Cave is the Dark Cave. It is a 2km long network of relatively untouched caverns containing a large number of cave animals, including several found nowhere else in the world. However, access to this cave is restricted. Permission must be obtained from the Malaysian Nature Society and guidelines must be strictly followed.
At the foot of the steps is the Art Gallery, in which statues and wall paintings depicting Hindu mythology are displayed. Access to this cave is via a concrete walkway spanning a small lake.