| | |
| --- | --- |
| | Popular Places |
As with dining out, a night out in Bangkok promises an exciting menu of options. From displays of classical Thai dance to cocktail lounges and discos with the latest high-tech sound systems, the choice is wide open.
Unique to Thailand, the traditional sport of kick boxing which the protagonists use feet, knees and elbows in addition to gloved fists, is especially thrilling. Bouts are held most night of the week at one or other Bangkok's two major boxing stadiums. This is the country's most popular spectator sport and should not be missed - the reaction of the aficionados, cheering and yelling, is often as exciting as the action in the ring.
In addition to traditional Thai entertainment, Bangkok increasingly offers a selection of more classic cultural fare. Plays, concerts and ballet are all periodically staged both at the top theater venues, such as the Thailand Cultural Centre, as well as at the stadiums, leading hotels and foreign cultural centers. Star attractions in the past have ranged from the Bolshoi Ballet to Micheal Jackson, from West End comedies to Broadway musicals to opera and chamber music.
In the wake of unprecedented economic growth, Bangkok has become one of Southeast Asia's most popular shopping centers with a host of department store, smart plazas and exclusive shops. Hand woven Thai silk, perhaps the country's best known craft, is an excellent buy, available by the length, as tailor-made outfits, or in a huge variety of accessories and decorative items.
As dazzling as silk are gems and jewelry. Bangkok is recognized as a world center for colored stones, and buyers may opt for individual gems, finished jewelry or unique custom-made items. For the serious shopper, other top buys include tailor-made clothing, leather goods, Thai, Burmese and Khmer antiques and an enormous array of handicrafts.
Inveterate browsers will also enjoy Bangkok's numerous markets. Thailand's staggering array of fruit, vegetables and flowers can be seen at fresh produce centers, like Sanyan Market on Phrayathai Road, the Marketing Organization for Farmers' Market near Chatuchak Park, or Park Khlong Talat. The Weekend Market, on the other hand, is packed with stalls selling just about everything from potted plants to pets and pop T-shirts. Moreover, street stalls mushroom nightly along Silom Road and other major thoroughfares to offer a host of bargains.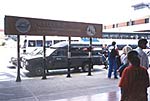 By Air : A vital regional aviation hub, Bangkok's Don Muang International Airport is served by more than 50 scheduled airlines offering direct flights from all corners of the world. Transfers from the airport to the city are facilitated by an eight-lane highway and a new elevated toll-way.
By Rail : Bangkok may also be reached by train from Singapore, Kuala Lumpur and other cities in Malaysia.
Getting Around : Moving around Bangkok is inexpensive and convenient. Taxis and tuk tuks (3-wheeled motorized vehicles), are abundant and the fares are comparatively inexpensive. There is also a comprehensive public bus network. On the Chao Phraya, there are river taxis and regular shuttle services, as well as long-tail boats for private hire. Furthermore, a large number of sightseeing tours are readily available from travel agents and hotels tour counters.
The temple of the Emerald Buddha enshrines the national palladium - the holiest Buddha image in the realm. Wat Phra Kaeo is a complex of sacred buildings erected over the course of Bangkok's first century in a seemingly random pattern and a delightful variety of styles. Walking through it, one's eyes are assaulted by twinkling pinpoints of sunlight reflected in hundreds of thousands of tiny colored mirrors that cover every jewel-like surface of the temple. At the center of the complex is the "bot" or "ordination hall" that holds the Emerald Buddha. Gilded 'garudas' (mythical birds) line its ramparts while 'singhas' (mythical lions) protect the stairs and ferocious guardians carved on the doors see to it that evil spirits do not enter. However, the image they guard is rather small. Seated on a pedestal, the Emerald Buddha is made of jasper and is clothed in the raiment of the season. North of the bot are the pantheon holding the ashes of past kings and important royal personages; the library, repository for the Buddhist scriptures; and a tall golden mosaic-tiled spire with a summit clad in pure gold.
Surrounding the complex is a portico whose walls are covered, comic-strip fashion with episodes from the Thai classic, the Ramakien, the story of the god-king Rama.