| | |
| --- | --- |
| | Popular Places |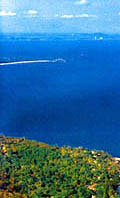 Islands Off Pattaya's Coast
One can enjoy idyllic cruises to various offshore islands. Nearest to Pattaya are Ko Lan and Ko Sak, a mere 45 minutes boat ride away. Further afield are other islands, in particular Ko Samet, which lies off the coast of Rayong. Far less developed than Pattaya, they affords a tranquil escape amid idyllic surroundings. The waters here are excellent for snorkeling and scuba diving. For those who like to explore off the beaten track, there are the islands of Ko Man Nok, Ko Kai and Ko Man Wichai.
Wat Yannasangwararam
Situated not far from Chomtien, this new wat is dedicated to His Majesty the King and is fascinating for its mix of architectural styles. The main temple building is a modern interpretation of classic Thai design, while numerous smaller shrines have been constructed in the typical styles of various countries East and West. The extensive landscaped gardens which surround the temple add natural beauty and enhance a tranquil atmosphere.
Bang Saen
Located to the north of Pattaya, Bang Saen is an older beach resort and one still very popular with Bangkok residents. Here, apart from the beach, is the excellent Marine Science Centre aquarium. Close by are Ocean World Water Amusement Park and, a few km inland, Khao Keo Open Zoo where various wild animals can be seen in a picturesque hillside setting.
Ko Chang

This is Thailand's second largest island (after Phuket). It is characterized by a hinterland of densely forested hills fringed by some superb beaches. Along with its equally magnificent neighboring islands, Ko Chang affords a tropical escape to visitors.
The Million Years Stone Park & Pattaya Crocodile Farm
Located on a nearly 40 acre piece of land just 15 minutes ride from Pattaya, this Park & Farm is a new striking tourist attraction created with more than 20 years' effort. It contains much more than what its name suggest. It is not only a living museum of curious and beautiful things of all the three kingdoms - animal, vegetation and mineral, but also offers visitors several kinds of amusing and exciting shows.