| | |
| --- | --- |
| | Shopping |
Antiques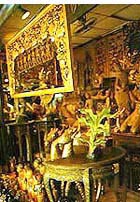 Fine art has been produced in Thailand since the birth of the nation, while the Kingdom's neighbor has a similar rich tradition of creating exquisite artworks. Modern art also flourishes today and both the collector and the occasional shopper will discover plenty to catch the eye. Besides that, Thai, Chinese, Burmese, and Khmer antiques are further excellent buys. If you spend the time to look around and shop wisely, it is possible to find items of museum quality. However, there is an export ban on certain pieces, while some others require an export license. But any reputable dealer will advise on restrictions and necessary documentation.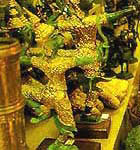 There are many quality antique shops around Bangkok, but the greatest concentration is found at River City Shopping Complex on New Road, where there is also an antique auction on the first Saturday of every month.
The Thai art scene is vibrant and there are numerous shops offering original works by local artists. Subjects range from renderings of classical temple murals and manuscript paintings to landscapes, typical Thai scenes and contemporary works of high aesthetic value. Art lovers should also remember that local framing is inexpensive and of high quality. In addition to those art galleries around Bangkok, exhibitions are held regularly at various leading hotels and other notable venues.