| | |
| --- | --- |
| | Popular Places |
Labuan is an island that is located approximately 8km off the coast of the state of Sabah at the mouth of the Brunei Bay. It comprises of one main island and six smaller ones, thus covering an area of 92 sq. km. It is also centrally located in the middle of the Asia-Pacific region. Labuan's inhabitants are very cosmopolitan. They come from all walks of life and from various regions around the world, thus creating a diverse and stimulating society.
Once a part of the Sultanate of Brunei, Labuan was ceded to the British in 1846. It remained under the British rule for 115 years except for the three years when it was under the Japanese occupation. With the increasing change in colonization, Labuan was ceded to the state of Sabah in 1963. Subsequently, its administration was handed to the Federal Government of Malaysia in 1984. Recognizing Labuan's strategic location and proximity to major shipping routes and offshore oil and gas fields, the Federal Government launched a long-term development program to jump-start Labuan's stagnating economy and to encourage the influx of both domestic and foreign investments. As Malaysia's only deepwater anchorage, Labuan is a free port, a Federal Territory, and an International Offshore Financial Centre (IOFC).
Labuan is well served by both Royal Brunei Airlines and Malaysia Airlines. For those who wish a more leisurely approach, high-speed air-conditioned ferry services are available from Sabah, Sarawak, and Brunei.
Buses and taxis are readily available within Labuan itself. Basically, they will take you anywhere around the island. It is, however, important to note that their fares are fixed. Car rental is also available for those who wish to travel on their own.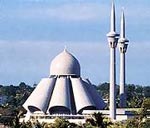 An'Nur Jamek Mosque
This splendid mosque was built at a cost of US$11 million and is the pride of the Labuan's Muslim community. Its futuristic architecture symbolizes the progressive spirit of the people and island of Labuan.
War Memorial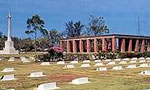 A beautifully landscaped cemetery, the War Memorial is located at Tanjung Purun on the outskirts of Labuan town (formerly Victoria Town). The memorial is the final resting place of fallen Allied soldiers. Maintained by the Commonwealth War Commission, it is a poignant memorial to the 4,000 Australian, New Zealand, and British Allied servicemen who had lost their lives during the World War II. A section is also dedicated to the Indian Soldiers of the Punjab Regiment. Many visitors, especially those from Australia, often return annually to pay their respects to lost friends and relatives.