| | |
| --- | --- |
| | Restaurants |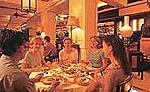 For such a minute island-country, Hong Kong's manifest of restaurants is unimaginable. In every nook and cranny, there are accessible restaurants serving varied selections of deliciously appetizing cuisine. Price ranges according to the districts and type of cuisine. There are many affordable private restaurants around the island that serve the same presentable dishes as the hotel restaurants.
The food districts in Hong Kong are abundant but a few popular ones are Lan Kwai Fong, SoHo, Wan Chai, and Causeway Bay on the island. In Kowloon, there are Knutsford Terrace, Kowloon City, Tai Wai, Sham Tseng, Lei Yue Mun, and Sha Tin. These districts offer from authentic Cantonese cuisine down to other foreign cuisine.
•
AH-SO Japanese Restaurant
The Restaurant is in the heart of the Harbour City 700, Tsimshatsui of Marco Polo Hotel is in perfect keeping with its neighbourhood.
•

China Coast Bar & Grill
Probably the first and the only Bar & Grill in the area, the China Coast Bar & Grill is unique of its kind.

Cafe Aficionado
With an artistic theme carried through the decor, uniforms and tabletops, Cafe Aficionado offers the best in Oriental and Western fare around the clock.

•
M Kitchen
The restaurant dominates the upper floor while the lower level is the bar and cigar room. Immediately to the left after the main front doors is a huge array of fine wines on display from all over the world. 70% of these wines are imported from France while the rest come from Spain, West Germany, Italy, Chile, and other parts of Europe.
•
Bravo
Bravo is situated in Central - heart of Hong Kong. Being a self-service boutique cafe, Pizza, Pasta, Oriental Rice & Noodles, Sandwich, Salad, Baked Potatoes, Fresh Fruit Juice is served at reasonable price.
•
San Francisco Steak House
We learned early that if you want to be the best at something, then you should not worry about the cost or the trouble. That is why our Certified Angus Beef is the most beautiful (and costly) in Hong Kong.
•
T.G.I Friday's
Being the first American casual dining restaurant, T.G.I Friday's ensures you of the most relaxing and decorative environment to enjoy your dining experience of our great variety of food and beverages to be served by our friendly people.
Establishments
Cafes & Restaurants


Introduce your cafes / restaurants to the world by signing up with Marimari.com. For more information, send us your particulars now!