| | |
| --- | --- |
| | Special Interests |
Baseball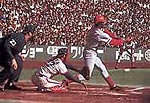 Baseball, otherwise known as yakyu, is probably the most popular sport in Japan for both the spectators and the participants. Introduced in 1837, baseball is a major preoccupation for all ages. Professional teams have been formed since the 1930s and there are all kinds of leagues available, including a number of university and high school baseball teams.
There are two professional baseball leagues in Japan: the Central League and the Pacific League, with six teams in each league. These teams are usually given original names, such as Tigers, Giants, and even Hiroshima Carp, and are also supported or owned by big corporate companies.
At the professional level, baseball becomes a big moneymaking business, drawing millions of spectators to the stadiums each season. The nightly televised games also draw huge audiences, not to mention those who devour Japan's national sports newspapers, especially during the baseball season. Japan is, in other words, a "baseball-crazed" country, probably more so than the United States.
Despite the similarity to American baseball, baseball has been modified and changed to become more Japanese. One essential difference is that baseball players in Japan are regarded as salaried men and are therefore expected to train as hard during off-seasons as during in-season.
There is a Japanese rule that allows only two foreign (gaijin) players in each team. These are usually former American major league players. This ensures that the game retains its Japanese identity. However, more than 300 foreign players have appeared in Japanese leagues since the league system was established in 1950.
Baseball season starts from April and ends in October. It is followed by the Japan Series, which is a seven-match contest between the top two teams.