| | |
| --- | --- |
| | Special Interests |
Sumo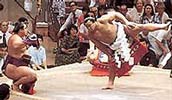 There are some who claim that sumo is a national sport, while others say it is a national spirit. The sumo wrestler (rikishi) may just say that it is long, hard work to short-lived glory. Sumo began as a court entertainment back in the 8th Century. Wrestlers were drawn from army ranks to fight, in order to amuse the imperial court in Kyoto. It evolved over the years and was formalized as a sport during the 17th Century. Matches were then held on Shinto shrines' grounds. The parades, costumes, and rituals we see in a Sumo match today preserve a long tradition.
In many ways, Sumo is still connected to Shinto fertility rites. For example, we have the shrine-like roof that hangs above the ring and the referee (gyoji) in his special costume. The wrestler himself wears a mawashi with a broad leather belt, which is something like the traditional loincloth, drawn between the buttocks.
Sumo is a fascinating event as it involves so many different things. Although it is a simple sport, its rituals make it complicated. There is one's physical strength, centuries-old ritual, a complicated code of behavior, religious overtones, a daunting hierarchy system, and feudalistic training regimes.
The rules of the game are surprisingly quite simple. The east (higashi) wrestler will either push or make his west (nishi) opponent unbalanced so that other parts of his body (apart from his feet) will touch the ground.
The ring, which is about 4.55m in diameter, is on a raised platform. In a way, it resembles a boxing ring. However, all similarities end there. Sumo wrestling is often brief and spectacular. The ritual before the fight itself is also just as important.
Unlike boxing, there are also no weight categories in sumo. All sumo wrestlers are big! The look is achieved through a special diet. Wrestlers consume large quantities of an especially fattening stew, chankonabe. This is supplemented by certain activities, such as massages that involves the manipulation of the intestines in order to consume more food.
Sumo wrestlers usually start around the tender age of 15. Mostly from rural areas, these 'wannabe' wrestlers will join one of the stables (heya), which is run by retired wrestlers, and work their way up the ranks. It is a long physical and emotional climb up, and only those on top would receive a salary.
Wrestlers who reach the rank of yokozuna (top rank in the Sumo hierarchy) become celebrity figures in Japan. A yokozuna can never lose his position. If he does, he is expected to retire. With the exception of several Hawaiians, very few foreigners have ever made it to the top in this sport.
Each year, six major tournaments are held. The tournaments are held in January, March, May, July, September, and November. They are also broadcast live on television.