| | |
| --- | --- |
| | Special Interests |
Elephant Riding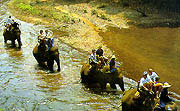 Elephants used to be a major form of transport before the rivers and roads were discovered. They are still used these days especially in Thailand's dense forest and broad rivers where it is virtually impassable by other modern modes of transport. One of the best way to explore Thailand's natural wonders and be at one with mother nature is by elephants!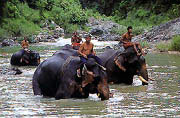 One can experience elephant riding and arrange for an elephant tour at the many elephant camps around the country. One such example is the Mae Kok Elephant Camp located at a Karen Hill Tribe village on the Mae Kok river bank in Chiang Rai district. Tourists wishing to explore the forest and visit the Karen village can take elephant rides from this camp. Umphang Elephant camp is another such camp in a Karen village. Here, Hill-tribe folk earn their living raising around forty elephants for trekking and riding. In Sangkhla Buri, a district on the Thai-Burmese border in Kanchanaburi province, elephants are raised for working purposes. When not working, they are available to visitors to ride in the forest at Sangkhla and by the Noi river.
Ayutthaya Elephant Camp is located at Khum Khun Paen next to Wat Mongkonbophit. Elephants here take visitors to view architectural sites and the island. At the Chiang Dao Elephant Camp, there are elephant shows by working animals hauling logs from the forest. Elephant riding is also available for rides along the Ping riverbank.