2 Days / 1 Night Sabah Tea Escapade with Fish Massage
Package Information

Tour Code
EAEON006
Excersion From
Kota Kinabalu
Durations
02 Days / 01 Night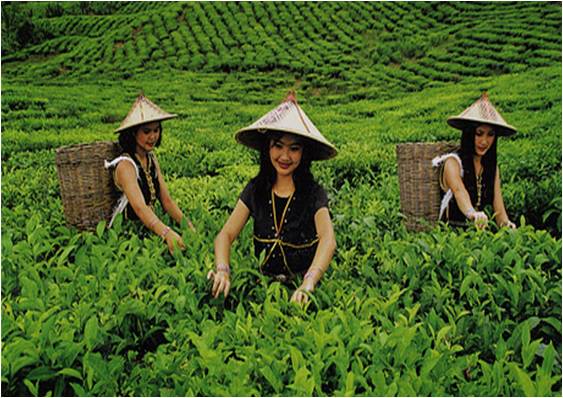 Itinerary
Day 1 - Kota Kinabalu - Kinabalu Park - Poring Hot Spring - Overnight (Lunch & Dinner)
This tour brings you across mountainous Crocker Range with breathtaking view of the nation side and soaring hillsides. Although on the way to Kinabalu National Park, you are able to catch the magnificent sight of Mount Kinabalu,East Asia greatest peak. The Park is really a World Heritage Site with incredible mega bio-diversity of plants and creatures, a paradise for character fanatics. On arrival, go to the Exhibit center and Mt.Garden to show a number of Mother Nature's miracles. This botanical paradise is fortunate by having an astonishing number of plants and creatures in the wealthy lowland dipterocarp forest with the montane oak, rhododendron, and coniferous forests, towards the all downhill field plants. Have a short trek in the one of several trails with this guide.

After lunch, depart for Poring Hot Spring that provides site visitors the chance to have an invigorating use its hot sulphur spring. For a closer inspection at character, go ahead and take 41 meter high Canopy Walk that provides an amazing look at the Borneo Jungle plants and creatures. In the late evening, go to sign in at Sabah Tea Garden Cottage. Dinner is going to be provided.


Day 2 - Kinabalu National Park - Kota Kinabalu (Breakfast)
After breakfast, loved a morning hours beautiful sunrise look at the Mt Kinabalu and also the mist since the tea plantation. Malaysian breakfast is going to be offered. At 0800am, get get ready for a 30-45 mins tour round the tea factory. Then transfer to Kg Luanti dealing with find out about the "Tagal" seafood massage and you'll go swimming in the river with awesome water in the mountain , free at leisure until before depart to Kota Kinabalu City.
Important Note
Min 2 Person
All Rate Quoted in Ringgit Malaysia (MYR) per person
Payment by credit card add 2.5%
To Bring : Raincoat, inspect repellent, toilets, towel & others items of personal use, good walking shoes, comfortable cotton T-shirt with long or short pant recommended.
You may aslo interest with other Sabah Tours :

Tour Description
Duration
Meals
Depart From Kota Kinabalu
Cultural & Lifestyle Tour - Kota Kinabalu

3 Hours
7 Hours
3 Hours
3 Hours
3 Hours
1 1/2 Hours
3 Hours
Fullday
Fullday
Fullday
Fullday
3D / 2N
3D / 2N
3D / 2N
4D / 3N
4D / 3N
4D / 3N

-
L
-
-
D
-
D
L
L
L
L
B, L, D*
2B, L, 3D
2B
B, L, D*
3B, 2L
3B, 2L

Island Tour - Kota Kinabalu

Fullday
Fullday
3D / 2N
4D / 3N
5D / 4N

L
L
2B, 3L, 2D
3B, 4L, 3D
4B, 5L, 4D

Mountain Tour - Kota Kinabalu

Fullday
Fullday
Fullday
2D / 1N
2D / 1N
2D / 1N
2D / 1N
3D / 2N
3D / 2N
4D / 3N
4D / 3N

L
L
L
1B, 2L, 1D
1B, 2L, 1D
1B, 2L, 1D
1B, 2L, 1D
2B, 3L, 2D
1B, 3L, 2D
3B, 4L, 3D
3B, 3L, 2D

Adventure Tour - Kota Kinabalu

Fullday
2D / 1N
3D / 2N
3D / 2N
6D / 5N
7D / 6N

L
1B, 2L, 1D
2B, 3L, 2D
2B, 3L, 2D
5B, 6L, 5D
6B, 7L, 6D

Eco Treasure Tour - Kota Kinabalu
Wildlife Tour - Kota Kinabalu

Fullday
Fullday
Fullday
Fullday
Fullday

Depart From Lahad Datu
Wildlife Tour - Lahad Datu

2D / 1N
3D / 2N
4D / 3N
3D / 2N
3D / 2N

1B, 2L, 1D
2B, 3L, 2D
3B, 3L, 3D
2B, 3L, 2D
2B, 3L, 2D

Depart From Sandakan
Life Style & Leisure Tour - Sandakan
Wildlife Tour - Sandakan

Halfday
Halfday
Halfday
1D / 1N
1D / 1N
1D / 1N
2D / 1N
2D / 1N
2D / 1N
2D / 2N
2D / 2N
3D / 2N
3D / 2N
3D / 2N
4D / 3N
4D / 3N

L
L
-
1B, 1L, 1D
1B, 1L, 1D
1B, 1L, 1D
1B, 2L, 1D
1B, 2L, 1D
1B, 1L, 1D
2B, 2L, 2D
1B, 2L, 2D
2B, 3L, 2D
2B, 3L, 2D
2B, 3L, 2D
3B, 4L, 2D
3B, 4L, 3D

Private Tour - Sandakan

2D / 1N
3D / 2N
4D / 3N
4D / 3N
5D / 4N

1B, 2L, 1D
2B, 3L, 2D
2B, 4L, 3D
2B, 4L, 3D
4B, 5L, 4D