| | |
| --- | --- |
| | Popular Places |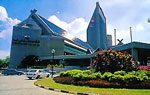 Shah Alam, Selangor's state capital, is a modern township surrounded at its periphery by Kuala Lumpur, Petaling Jaya, and five other major townships including Klang, Bangi, and Kajang. It enjoys a vantage location being ideally located halfway between the national capital, KL, and the viable Port Klang.
Hailed as one of the most well-planned cities, Shah Alam has most of its residential area on one side of the Federal Highway and industrial zones on the other. Hence, Shah Alam has been constructed according to a blueprint drawn up with the environment at the forethought of the planners. It has become a showpiece city of the future, free from the inherent problems of haphazard development and shanty towns found in other major growth centers.
Sultan Salahuhddin Abdul Aziz Shah Mosque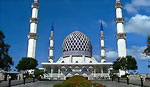 Dominating the entire state capital, this is truly one of the finest mosques to be found anywhere in the world. Completed in 1988, its minarets, at 142.3 meters, are the tallest in the world. Its graceful blue dome is also one of the biggest of its kind. Decorative Islamic calligraphy enhances the dome and main prayer hall, while the overall architecture integrates Malay and Moorish design elements. The mosque's pulpit has been executed in carved timber, a masterpiece of local craftsmen from the state of Kelantan.
Shah Alam Lake Gardens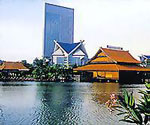 For relaxation, head for the Shah Alam Lake Gardens. It is the site of annual events such as the International Boat Show and the Selangor Orchid Exhibition. A delightful system of man-made lakes graces the town center. Picnic area dot this well-kept parkland and a floating seafood restaurant stands on the fringes of the lakes.