| | |
| --- | --- |
| | General Info |
Immigrants
All countries have problems with illegal immigrants. Hong Kong's dilemma on the issue generated between 1978 and 1980 when some 500,000 outsiders risked their lives in the shark-infested waters or when climbing dark cold mountains to reach the island. Unfortunately for them, they were greeted by troops of the People's Liberation Army (PLA) and Chinese coastal boats, which collaborated with the British and Gurkha troops, police, Royal Navy, and Air Force to put an end to the flow of these 'aliens'.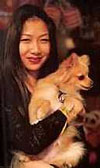 Despite the predicament, Chinese mainlanders can now enter Hong Kong legally on an entry permit. Many of them are now absorbed into the local culture after adapting to the lifestyles of the parochial population. Nonetheless, professionals of China, such as doctors, nurses, engineers, and the like are not able to practice their trained skills in Hong Kong as their credentials are not recognized. Hence, those who want to live here have to settle with menial jobs.
Besides being home to the various classes of Chinese, Hong Kong also has its own foreign population. Although only two percent of the entire population is not Chinese, these foreign nationals have brought their cultures, cuisine, arts, and religions into the country. The Chinese refer to them as 'kwailo', which means 'ghost person' or 'foreign devil' in Cantonese. These 'kwailo' includes Americans, Australians, Canadians, British, and other European expatriates who form the bulk of the foreign business community in Hong Kong.
Besides the Caucasians, there are the descendants of early merchant traders and soldiers who came from the Indian subcontinent to Hong Kong. They are the more established non-Chinese communities on the island, many of whom speak fluent Cantonese and hold Hong Kong passports. The Indians, Sri Lankans, Pakistanis, Bangladeshis, Sikhs, and Parsees belong to this category. Although they were born here in Hong Kong, they were previously not recognized as Chinese nationals. However, most of them have now been granted British citizenship.
Other nationalities, such as the Filipinos, Gurkhas, and Vietnamese also share the resources of the island together with the rest of the community. These people are less affluent as compared to other foreigners, but even then, their distinct cultures and traditions leave a mark on their existence.