| | |
| --- | --- |
| | Popular Places |
Pedu Lake
Located approximately 5km from the Malaysian-Thai border, Pedu Lake is an ideal vacation spot for both young and old. A massive development plan has changed this 12km-long lake into a premier holiday resort, which is second to none in the world. Settled in the midst of the dense rainforest of Gunung Fakir Terbang and surrounded by an undulating terrain, this magnificent lake offers a serenity that is unmatched, a landscape that is beautiful beyond words, and a refreshingly cool environment. With its peaceful and tranquil environment, Pedu Lake is an ideal location for unwinding even under the midday sun. Just by reading your favorite novel under swaying coconut palm trees in the cool breezy mountain air can bring such simple pleasure.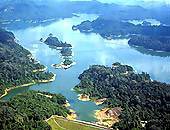 Pedu Lake has the ability to bring peace and quiet in one's life. Imagine getting away from traffic jams or air and noise pollution. The entire world is at your feet. Furthermore, the crystal clear waters offer an ideal venue for water sports' lovers. One can jet ski, canoe, water-ski, or even windsurf. Apart from water sports, one can also golf, fish, camp, watch birds, and jungle trek.
For those interested in jungle trekking, it can be done by going into the inner depths of the jungle around Pedu Lake. One can discover and admire its well-protected flora and fauna. The lush jungle is home to a large population of wild animals, which includes elephants, deer, wildboar, leopards, birds, bats, flying foxes, and not forgetting the different types of insects. The jungle is also a sanctuary for a special breed of "albino snakes" although it takes a lot of patience and luck to come across one. The rich wildlife in Pedu Lake's jungle has prompted the Kedah Government to designate part of Pedu Lake and its surrounding areas as a wildlife sanctuary. This has opened a new dimension in eco-tourism, which is uniquely special to the Pedu Lake region. Hides and canopy walks have also been created to enable tourists and nature lovers to have a taste of adventure in the wilds.
Another unique natural attraction offered is "swarm" hunting as the jungle is home to millions of giant honeybees called "Appis Dorsata". The honeybees have a particular tree in the jungle called the "Tualang Tree", which happens to be their favorite tree for setting up home. Hundreds of hives can sometimes be found on the tree. Watching these honeybees swarming back to their hives at sundown is a thrilling experience that is too good to be missed. However, it would be wise to engage in the services of special guides to go on this "swarm" hunting adventure, as well as to see the natives in the jungle collecting wild honey from the honeybees.
Visitors should also not limit their adventures to daytime alone. When night falls and silence descends, one can hear the crackling calls of jungle insects, the occasional hooting of night owls, and the strange cries of wild animals. It is a world where the nocturnal animals dominate. Yet the moon high above the lake and the shimmering surface of the lake provides such peaceful and romantic feelings.
For the more pampered tourists, there are two superb holiday resorts to cater to their needs. Pedu Golf and Lake Resort and the Desa Utara Pedu Lake are two international resorts, which have laid claim to the fringes of Pedu Lake. Both provide beautifully structured chalets for visitors' perusal. They also provide all the modern facilities and amenities that are normally associated with top-class international resorts, including an 18-hole golf course. The Kedah State Economic Planning Unit and Berjaya Pedu Lake Resort are also planning to develop more chalets in Pedu Lake.
Pedu Lake has so much more to offer to us. Nature lovers have the entire jungle at their disposal to discover the hidden secrets of the tropical forests. Vacationers have the beauty all to themselves. One can never tire of this place.