| | |
| --- | --- |
| | Food |
Other Cuisine
Apart from Chinese cuisine, Hong Kong does cater to the different tastes of both its local and foreign populations. There are myriad restaurants specializing in Asian cuisine, such as from Japan, Malaysia, and Thailand, along with Western food. Every locality in the country has its own share of other cuisine. Nevertheless, they are all equally unique and palatable.
Japanese

Japanese food is abundant and popular in Hong Kong. Japanese outlets, which range from inexpensive cafes to the very formal restaurants, all serve equally tasty Japanese delights. Standard menus comprise of tempura (lightly fried vegetables and fish), yakitori (grilled skewered meat), sushi (raw fish served on lightly vinegary rice rolls), soba noodles (strands of gray-colored noodles twirled into a bun and served cold), sashimi (a palate of raw fish and octopus), and other more colorful dishes. As some may not acquire the taste for raw food, Teppanyaki, which is cooked on a heated tabletop right in front of diners, is served. Chefs display an act of skillful knife tossing and swift cooking methods that is not only a visual, but also a culinary experience to remember.
Indian

If you are craving for some authentic Indian cuisine, there are many tandoori houses available in Hong Kong. These restaurants are affordable and definitely satisfying. A traditional method of Indian cooking is the roasting of meats and poultry in a tandoori oven, which is made of clay. Tandoori chicken is a dish widely sought after by lovers of Indian food. A typical tandoori palate comes together with raw onion rings, which are consumed with special spices and sauces served on a multi-tiered stainless steel container. A good complement with the chicken would be the Indian green mustard that is hot and absolutely invigorating.
A feature of Indian cuisine includes breads. Naan bread, being the most popular, is made plain, with garlic or onion, and other ingredients. The Naan can be eaten with side dishes of vegetable dhall and meat or seafood curries. Dhall is a thick curry made from beans and yogurt. Beef is not served in Indian foods due to religious customs. Nevertheless, their mutton and fish curries are worth a try.
Northern Indian dishes tend to be mild and creamy, while the southerners prefer more spicy curries that can set your senses afire. Rice is also available in Indian menus. You may opt for just plain white rice or briyani rice, which is flavored rice cooked with nuts and meat.
Southeast Asian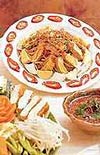 Foods from Indonesia, Malaysia, Thailand, Vietnam, and Singapore are classified under this category. Basically, the flavor and taste of these foods are similar, with minor differences in the spices and ingredients used, along with the methods of preparation. Southeast Asian foods are a mix of all the four senses: salty, sour, sweet, and bitter. The availability of spicy and non-spicy dishes depends on which region you are in.
Indonesian and Malaysian food are rich in sauces and spices, whereas Thai food is hot and spicy with extensive use of coriander in their cooking. Singaporean food, like any other Chinese food, features various noodles cooked in different styles. Vietnamese food also emphasizes the pungent flavor of coriander leaves and features a lot of beef dishes. Although these foods may not be as authentic when eaten in Hong Kong, it is still tasteful and scrumptious.
Western

The younger generations in Hong Kong are ardent western food lovers. Therefore, many restaurants were established to meet the demands of this bulk of the population. From steak houses to Italian restaurants to Mexican cafes and more, these establishments feature different Western cuisine that is both mouth-watering and delectable. Fast food joints are also abundant in Hong Kong. The popular McDonald's, Kentucky Fried Chicken, and Burger King are available almost everywhere in Hong Kong. These joints are usually sojourned by the working class who can get a quick and filling meal at lunchtime, as well as children who are attracted to the collectibles and toys that are offered with each meal during different promotions.
Hawker Food
There are many vendors in Hong Kong. From tidbits to appetizers to a more filling meal, these hawkers are trademarks of any Asian region. Visitors can sample varieties of hawker food along the streets or at night markets. The popular dishes include the wantan noodle (wan-ton meen), beef noodle (ngau lam meen), soy bean curd with syrup (tau fu fa), and fishballs on sticks (yu tan). Only the brave should try the smelly bean curd (chau tau fu), which is Hong Kong's delicacy.