| | |
| --- | --- |
| | Entertainment |
Cinemas
Cinemas are found everywhere in the world. But in Taiwan, cinemas screen more films and Taiwanese watch more films per year, per capita, than any other people in the world. Both local and foreign films are screened each week, while English movies come with Chinese subtitles to cater for those who do not understand the language. On the other hand, Chinese movies are also shown with English subtitles, so foreigners can enjoy local 'kung-fu' films.
Newspapers usually provide details of the films playing in cinemas in Taipei. There are usually three to five shows screened per day.
Taipei is as busy in the night as it is in the morning. There are abundant night activities to keep you entertained till the break of dawn. The common nightspots found everywhere are discotheques, piano bars, music lounges, and pubs.
Food and drinks go concurrently in Chinese society. Drinks, namely beer, wine and spirits, usually accompany meals. After a tiring work day, drinks are a form of 'letting loose' and revealing the inner-person.
Currently, bottle clubs have become a quintessential form of nightlife. Customers buy bottled liquor and store them in racks for future consumption. Clubs like these are posh and exclusive. Live entertainment is provided and dancing is allowed. It is the businessmen who usually frequent these clubs as it is a suitable place for entertaining clients and associates on corporate expense accounts.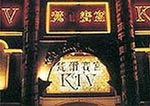 KTVs are karaoke bars. Popular in Japan, it is now also a favorite entertainment for the Taiwanese people. KTVs are elegantly decorated to attract their customers. Customers can choose to have their own private karaoke sessions in a room or, if audacious enough, they can enjoy the company of others at the main lounge. In the room, food and drinks can be ordered, followed by the paging of selected music from a list of songs available. Do not be afraid if you do not know how to sing Chinese songs, as English music is also available.
If you enjoy pubs and bars, Sugar Daddy Row around Shuang Cheng Street is the place to visit. A fundamental favorite of Chinese men are the wine houses ('jiou-jia'), often referred to as 'girlie restaurants' by foreigners. Food is served and guests are required to order several dishes, although the main meal is normally taken elsewhere. Guests will begin to throng the wine houses at 9 p.m.
A ritual wine house party would include four persons, with at least one Chinese man being familiar with the custom. To the Chinese, the more participants to the party, the merrier; hence, more people are always welcomed in a party. Some indulge in a game of 'Rock, paper and scissors' (finger game) to stimulate the party and get participants drinking.