| | |
| --- | --- |
| | Shopping |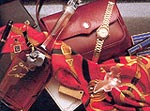 Those who enjoy shopping can indulge themselves with the many wonders that Taipei has to offer. There are many shopping centers located in Taipei alone, and some of these are huge megamalls that would take more than a day to explore. Clothes, cosmetics, shoes, electrical products, toys, stationery, and more are opulent in all the malls. The rich and classy can go for the more expensive brands, while those who prefer the not-so expensive stuff can opt for the cheaper brands.
Taiwan is a shopping haven that caters to people of different ages and tastes. Most tourists often leave without feeling disappointed.
Asiaworld Department Store
50, Jungshiau W. Rd., Sec. 1, Taipei.
Dayeh Takashimaya
55, Jungcheng Rd., Sec. 2, Taipei.
Pacific Sogo Department
45, Jungshiau E. Rd., Sec. 4, Taipei.
The Mall
203, Duenhua S. Rd., Sec. 2, Taipei.
Everrich Duty Free Taipei Downtown Shop
B1, 72, Minchiuan E. Rd., Sec. 3, Taipei.
Shio Kong Mitsukoshi Department Store
12, Nanjing W. Rd., Taipei.