| | |
| --- | --- |
| | Best of Malaysia |
Culture
•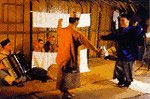 In the traditional musical performances of the Malay community in Sarawak, it is the womenfolk who play the gendang or drums. Seated behind a screen, they drum out their beats in rhythm to songs sung by young maidens and dances performed by men.
• Wayang Kulit (Shadow Play)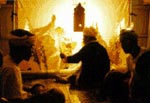 Wayang Kulit is a traditional theater art-form using puppets and shadow-play to tell the epic tales of the Ramayana. The puppets are made of buffalo hide and mounted on bamboo sticks. There may be as many as 45 puppets - handled entirely by a single master puppeteer, known as the Tok Dalang.
• Maggagong (Gong Ensembles)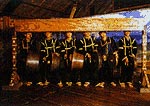 Brass or bronze gong ensembles form an inherent part of Sabah's ethnic music. The melody varies from district to district. The Kadazan Dusun group include six songs and a drum called the sopogogungan (Penampang) in their musical composition while the Bajau from Kota Belud add kulintangan, a set of kettle-bedded gongs.
• Bunga Malai (Garland Making)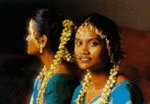 Flowers form an integral part of the cultural heritage of Malaysian Indians for religious occasions, weddings, moving house, or welcoming an important guest. Flowers, holy basil, and the leaves of the margosa or mango tree are strung together to form a malai or garland. They are done in different styles to suit each particular occasion.
• Sumpit (Blow Pipe)
The tribal people of Sarawak are known for their magnificent hunting skills. They are aided by the sumpit, a six-foot long wooden blowpipe with a poisoned or a barbed tip. One quick puff sends the dart (sometimes twenty-yards away) to the victim, usually a wild pig, deer, or bird.
• Silat (The Malay Art of Self defense)
Silat, the Malay art of self-defense combines a series of supple movements, which enables a person to defend himself under provocation. The aim of silat is to instill confidence in oneself in the face of adversity. Occasionally, a keris (small dagger) may be used.