| | |
| --- | --- |
| | Best of Malaysia |
Kuala Lumpur Tower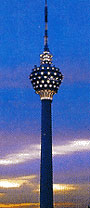 Beside the Petronas Twin Towers lies the awesome sight of KL Tower, the tallest tower in Southeast Asia. It stands majestically atop Bukit Nanas (Pineapple Hill) at 421 meters and 94 meters above sea level, is one of the first and perhaps most enduring images a visitor to KL will encounter. KL Tower was built to endure against wind pressure of 190 miles per hour.
KL Tower, the 4th tallest of its kind in the world, was erected as a telecommunication tower to improve the quality of telecommunications and broadcasting transmissions. It doubles as an exciting destination with much to offer visitors in terms of cultural activities, shopping bargains, and even the ambience of a forest reserve!
Completed in 1996 after taking 4 years to build, the tower's beautiful architectural design and motive reflects rich Islamic Heritage. This was the brain child of local architects, Kumpulan Serineka Sdn Bhd, who successfully blended Eastern architecture with Western technology to build such an elegant tower.
Dome shaped arches at every doorway on the upper ground floor are decorated with glass that illuminates like giant diamonds whose surfaces are arranged according to the form of traditional Islamic "Muqarnas". This Iranian forms larger brusque patterns at the bottom to symbolize the seven layers of the sky. The receding shape of the apex symbolizes the sun ray whereby it is also a symbol of man's journey towards perfection.
The soffit of the tower head is decorated with vertical rib structure on the outer layer on which the aluminum Islamic design is drawn. This, however, can only be seen from the pedestrian mall and the buildings around the tower.
Located in the heart of the Golden Triangle, KL's business and entertainment district, KL Tower is just a stroll away from major hotels and shopping establishments. The tower is also easily accessible as there are regular public transportation.