| | |
| --- | --- |
| | Popular Places |
Ko Phi Phi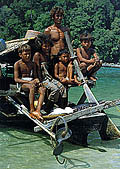 Ko Phi Phi is made up of two islands, Phi Phi Don with its endless beaches and Phi Phi Le, a private enclosed area girdled by sheer cliffs.
Previously (and still is) a temporary residence for sea gypsies, Ko Phi Phi has since turned into a favorite spot for diving lovers from all over the world. The coral reefs in the clear waters ensure a spectacular sighting and the colorful fishes swimming in their natural habitat is a sight to behold.
Situated 48 km from Phuket and 42 km from Krabi, the island is only accessible by boats. Tours to Phi Phi Le is commonly done on board kayaks where tour guides would take you to the Viking Cave, which is rich with its prehistoric paintings of things resembling Viking longboats. Most tours would include a visit to the cliffs where swiflets' nests are harvested for bird's nest soup, a Chinese delicacy throughout Asia.
Formally a quiet Muslim fishing village, Phi Phi Island now meets all touristy demands, including restaurants, diving schools, and hundreds of overpriced souvenir shops.
Ko Phi Phi (Phi Phi Island)
Voted the third most beautiful island, one can only agree in amazement once witnessing its speckled crystal clear waters and serene surroundings. But the best thing about the island would be the snorkeling facilities where one is greeted by some of the most wondrous coral reefs. It is also advised that you take along some bananas with you when snorkeling. Tropical fish love bananas and make great photograph subjects when fed underwater. Of course, ensure that your camera can be used for underwater photo taking first before snapping away. Other facilities includes the "Thai-tanic", which is a remarkable sunset kayaking tour, and having breakfast with the sharks!
Breakfast with the Sharks
The breakfast deal with the sharks is definitely the highlight of one's trip to Ko Phi Phi. There are a few different types of tours that take place daily, ranging between 400 baht for a basic six-hour tour to 3000 baht for a four-hour extensive reef tour. Don't be surprised if you witness yourself being circled by up to six black tip sharks or leopard sharks, some of them two meters long, all hungry for their breakfast! Don't worry; you will return home with your body parts still intact as the sharks are harmless. The tours also include visits to coral gardens and can be personalized to meet one's needs.
Getting there and around
The best way to get to Ko Phi Phi would be from Krabi's Tha Jao Fah as it is more economical and there are two daily departures. The journey takes about an hour and a half and costs 150 baht. The island is also readily accessible from Phuket but can cost up to 450 baht although the boats are more frequent and the journey takes about an hour. When on the island, it is advisable to absorb as much as you can by going around on foot. If you require short hops between Phi Phi Don and Phi Phi Le, boats are available for charter.