| | |
| --- | --- |
| | Popular Places |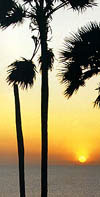 Gem of the Andaman Coast, and Thailand's top beach resort is Phuket Island. Shaped like an irregular pearl and measuring approximately 21km wide by 48km long, Phuket is Thailand's largest island and a province in its own right. Sparsely populated outside Phuket town, the landscape is one of lush green hills, coconut groves, rubber plantations and a coastline dotted with a dozen spectacular beaches. Set against a backdrop of palms and casuarinas, each idyllic stretch of sand has a character and charm of its own.
Accommodation can be found in abundance and the facilities are as comprehensive as the range of accommodation. Restaurants are excellent, both in their setting and in their menus, featuring a selection of culinary delights from fresh seafood or spicy Thai dishes to other Asian cuisine and Continental specialties. Cocktail lounges, discos and nightclubs give ample choice for after dinner entertainment.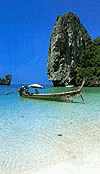 The island's size and its wealth of beaches offer plenty of different focal points, each with its own identity. Patong Beach, for example, is the most developed area and suits those who like a kaleidoscopic variety of attractions with ready access to all parts of the island.
Tempting though it is simply to laze on the beach and soak up a tropical suntan, Phuket offers many sporting options for visitors seeking action with a taste of adventure. Scuba diving is perhaps the island's most popular and best developed sport. However for those who prefer to keep their heads above water, yachting and deep-sea fishing are two marvelous sporting alternatives.
On land, sporting attractions vary from daredevil bungee-jumping to the very different challenges of golf on any one of several superb 18-hole courses. Horse riding and go-kart racing are further choices.
More than just a place of sun, sea and sand, Phuket affords ample scope for sightseeing. Molded by various influences over the centuries and made rich through tin mining, Phuket has evolved into a distinctive culture, giving rise to a number of sights and events unique to the island. Early prosperity is witnessed in several well-preserved mansions of considerable architectural interest, while a further reminder of past influences survives in the annual Vegetarian Festival held in October.
Getting There
By Air : Thai Airways International operates daily from Bangkok. There are also direct air links with Japan, Hong Kong, Korea, Malaysia, Singapore and Europe.
By Road : The island is linked to the mainland by the 700m long Sarasin Causeway therefore, access is easy. There are many overnight bus services from Bangkok.
By Rail : The island can also be reached partly by train and partly by bus.
By Sea : There are many ferry services to the island and Phuket remains a favorite stop for cruises.