| | |
| --- | --- |
| | Popular Places |
Yala
Yala, Thailand's southernmost province, is characterised by a landscape of mainly mountains and forests. The word Yala comes from a folk word "yalor", meaning "fishing net" because at the original site of the town, Yalor, there was a mountain shaped like a fishing net. In actual fact, Yala town is a lowland and people earn their living by fishing.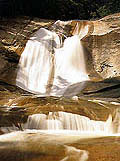 Geographically, Yala covers an area of 4,521 sq km. Its border is connected to Songkhla, Pattani and Narathiwat. It is the only one of the 14southern provinces that is not next to the sea. It is divided into 6 districts: Muang, Betong, Bannang Star, Yaha and Raman and two sub-districts: Kabang and Krongpinang.
The most famous sight in the area is the large ancient statue of the reclining Buddha, enshrined in a cave at Wat Khuhaphimuk, 8 km from Yala town. dating from the 8th century, this image is considered one of the three most important monuments of the South.
Scenic attractions here include the Than To Waterfalls, located on the Yala-Betong highway. Set in an arboretum and surrounded by high mountains, these impressive falls tumble over seven levels.