Stripes Hotel Kuala Lumpur
Address :
25, Jalan Kamunting, Medan Tuanku, Kuala Lumpur, Kuala Lumpur, Malaysia, 50300

Star Ratings :

View More Hotel in :
Sri Hartamas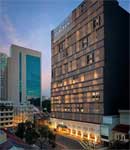 Stripes Hotel Kuala Lumpur Overview
Jalan Kamunting is an urban district in downtown Kuala Lumpur. A main settlement for tin mining during the colonial era, the industry boomed in the mid-19th century, giving life to the development of the surrounding neighbourhood. Like most capital cities, Kuala Lumpur or KL, as it is known locally, drew people from different destinations, transforming the city into a melting pot of various cultures.

At the end of the 19th century, most of the neighbourhood, which had been constructed of wood and thatch, had been destroyed by a disastrous fire and flood. To prevent the reoccurrence of this destruction, the British colonial administration stipulated that the buildings were to be replaced with, far less flammable, bricks and tiles. This resulted in the area's distinct eclectic shophouse architecture many with five foot ways, pedestrian walkways unique to the region.

Today, the neighbourhood of Jalan Kamunting includes the reincarnation of The Row, formally known as the Asian Heritage Row. Twenty-two 1940s shophouses featuring great restaurants, a dazzling nightlife, cafés, art galleries and creative businesses. A dynamic mix of old and new, this vibrant atmosphere which fuels the city defines STRIPES.
Stripes Hotel Kuala Lumpur Location & Nearby Attraction

Enlarge Stripes Hotel Kuala Lumpur Location Map
Located in the heart of Kuala Lumpur, STRIPES connects guests to the pulse of an urban neighbourhood, right by the city's business hub, with some of the city's greatest local food, art galleries, shops and legendary landmarks.
Discover Kuala Lumpur's most creative and engaged downtown neighbourhood.
Stripes Hotel Kuala Lumpur Room & Accommodations

Room

Room

Room

Room
184 bespoke guest rooms and suites are a unique blend of contemporary design and urban chic, reflecting the history and character of the neighbourhood.
Guest rooms feature custom furnishings, free Wi-Fi, HD TV, complimentary minibar, espresso coffee machine and all of the overnight essentials you might need.
Stripes Hotel Kuala Lumpur Facilities & Services
Facilities

Facilities
Facilities

Facilities
The Snug
Cosy with stripped-back walls giving it an industrial edge, The Snug on level 2 is a great pit-stop for a quick caffeine fix to start the day for guests and locals alike. A vibrant dining selection is on offer throughout the day with a variety of seating spaces to suit diners regardless of whether they are looking to work, relax or socialise.
Brasserie 25
Brasserie 25 exudes a rustic charm. With its red brick arcades, mid-century copper sputnik chandeliers and dark wood floors, this French-style restaurant located on level 1 provides a dramatic yet relaxed vibe.
The cuisine is laid back but bursting with flavour. Perfect for lunches and informal dinners, the dishes are inspired by fresh, locally produced ingredients.
The perfect blend of traditional and modern, Brasserie 25 draws inspiration from STRIPES' sister hotel, MUSE ST Tropez and even offers le goûter, afternoon tea with a French twist.
Man Tao Bar
Creative local scene and eclectic vibe lure locals and tourists to the outer district for an unpretentious escape. Man Tao, a neighbourhood nook inspired rooftop pool bar is the new exiting spot for soothing tunes and weekend drinks. Enjoy cloud-like Chinese steamed buns with variety of delicious filling best paired with Tsing Tao beer cocktail.

Important Notes of Stripes Hotel Kuala Lumpur:
Check - In Time : 14.00 p.m
Check - Out Time : 12.00 p.m
The images shown are for guidance purposes only. You may stay in a room which is different from the examples shown.
Add Hotel to online bookmark :