4 Days / 3 Nights Borneo Honeymoon
Package Information

Excersion From
Kota Kinabalu
Durations
04 Days / 03 Nights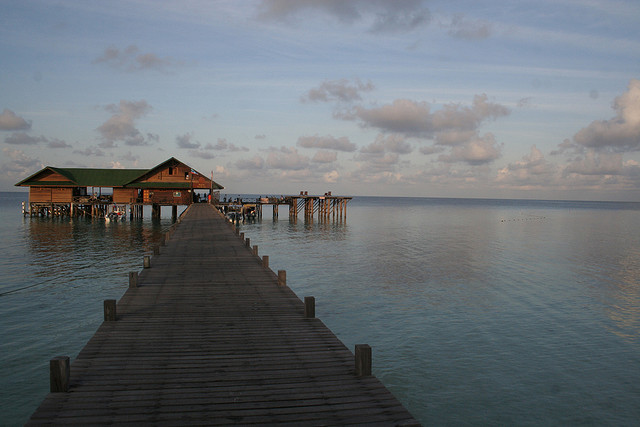 Itinerary
1 bottle of red wine
1 bouquet of flowers for bride upon arrival
Day 1 Kota Kinbalu (Dinner)
Day 1 Meet and greet at the airport. Transfer to 5* hotel or similar. Free at leisure . At 1800hrs catch Kota Kinabalu city at lits most affable take down a ride to Tanjung Aru Beach for the sunset and wander through the food stalls here. Go through to Pasar Malam waterfront in the city and ready to be transfer to Kg. Nelayan Seafood Restaurant. Enjoying their spectacular Cultural Show of the insight highlight to the wonderful Sabah many ethnic groups while dining. Cultural show at 1930hrs~2030hrs daily. Return to respective hotel afterwards.


Day 2 Kota Kinabalu (Breakfast, BBQ Lunch)
At 0830hrs pickup from hotel and transfer to jetty for twin island tour. Boat-ride under 30 minutes goes to Manukan Island just off Kota Kinabalu City. Manukan island is fantastic for swimming and scuba diving. The fine whitened sandy beach is ideal for catching some sun rays. Really bliss on any of the beaches, nowhere ocean and barrier reefs with colorful marine existence. Then make room to Sapi Island where lunch is going to be offered. Free at Leisure. Share tropical plant life that supports interesting wildlife.

Activities – Seaport available at own pax account such as Parasailing, Jetski, Kayak, Snorkel & Fin Set can be hired OR boat charter to do island hopping around Tunku Abdul Rahman Park)

At 1600hrs, transfer to mainland A brief journey come to a Famous Health spa for Borneoethnic relaxation Health spa experience. This Health spa offer a variety of remedies and healing ritual made to soothe both the body and mind. Since its beginning in 2005, it's positively marketed its services and items to local & vacationers.
Day 3 Kota Kinabalu (Breakfast)
Breakfast in the hotel, Free at leisure.


Day 4 Departure (Breakfast)
Breakfast in the hotel, Free at leisure until transfer to airport terminal.
Package Inclusive:
3 X Nights at 5 * hotel with daily breakfast (Le Meridien / Hyatt Regency)
1 x Seafood set dinner at local restaurant with cultural show & return transfers
1 X BorneoEthic Relaxation Spa for couple with return transfers
1 X Bouquet of flower upon arrival for the bride
1 X Bottle of wine
Twin island excursion with BBQ seat down lunch
Airport Return Transfers
Important Note
Min 2 Person
All Rate Quoted in Ringgit Malaysia (MYR) per person
To bring: Insect repellent, swim wear, sun lotion, hat & drinking water, change of cotton T-shirts and short pant, Sunglasses and etc.
You may aslo interest with other Sabah Tours :

Tour Description
Duration
Meals
Depart From Kota Kinabalu
Day Tour - Kota Kinabalu

3 Hours
3 Hours

3.5 Hours
7 Hours
3 Hours
3 Hours
3 Hours
1 1/2 Hours
3 Hours
Fullday
Fullday
Fullday
Fullday
Fullday
Fullday

Fullday
Fullday
Fullday
Fullday
Fullday

-
-
Hi-Tea
L
-
-
D
D
-
D
L
L
L
L
L

L
L
L
L
L

Island Tour - Kota Kinabalu
Cultural & Lifestyle Tour - Kota Kinabalu

3D / 2N
3D / 2N
3D / 2N
3D / 2N
3D / 2N
3D / 2N
4D / 3N
4D / 3N
4D / 3N
4D / 3N
4D / 3N

B, L, D*
2B,1L,1D
2B,1L
2B,2L,1D
2B,2L,1D
2B
3B,3L,1D
3B,3L,1D
3B, L, D*
3B, 2L
3B, 2L

Mountain Climbing & Overnight Tour- Kota Kinabalu

2D / 1N
2D / 1N
2D / 1N
2D / 1N
2D / 1N

2D / 1N
3D / 2N
3D / 2N
4D / 3N
4D / 3N

1B, 1L, 1D
1B, 1L, 1D
1B, 1L, 1D
1B, 1L, 1D
1B, 1L, 1D
1B, 2L, 1D
2B, 2L, 2D
2B, 2L, 2D
3B, 4L, 3D
3B, 3L, 2D

Adventure/Eco Tour - Kota Kinabalu

2D / 1N
3D / 2N
3D / 2N

3D / 2N
6D / 5N

1B, 1L
2B, 1L
2B, 3L, 2D

2B, 3L, 2D
5B, 6L, 5D

Island Tour - Tawau/Semporna

Full Board

Full Board

Full Board

Depart From Lahad Datu
Wildlife Tour - Lahad Datu

1B, 2L, 1D
2B, 3L, 2D
2B, 3L, 2D

Depart From Sandakan
Life Style & Leisure Tour - Sandakan

3.5 hrs
3.5 hrs
3.5 hrs
3.5 hrs
5.0 hrs
Fullday
Fullday
Fullday
Fullday
Fullday
Fullday
Fullday
Fullday
Fullday
Fullday

Island Tour - Sandakan
Wildlife Tour - Sandakan

1D / 1N
1D / 1N
2D / 1N
2D / 1N
2D / 1N
2D / 2N
2D / 2N
3D / 2N
3D / 2N
3D / 2N
4D / 3N
4D / 3N
5D / 4N

1B, 1L, 1D
1B, 1L, 1D
1B, 2L, 1D
1B, 2L, 1D
1B, 1L, 1D
2B, 2L, 2D
1B, 2L, 2D
2B, 3L, 2D
2B, 3L, 2D
2B, 3L, 2D
3B, 4L, 2D
3B, 4L, 3D
4B, 4L, 3D

Private Tour - Sandakan

2D / 1N
3D / 2N
4D / 3N
4D / 3N
5D / 4N
5D / 4N
6D / 5N

1B, 2L, 1D
2B, 3L, 2D
2B, 4L, 3D
2B, 4L, 3D
4B, 5L, 4D
4B, 5L, 4D
5B, 6L, 5D