| | |
| --- | --- |
| | Popular Places |
Kowloon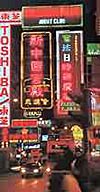 Bearing the meaning 'Nine Dragons', Kowloon, which is only a few square kilometers, is one of the world's most densely populated urban areas with both residents and tourists. At the peak of the peninsular is the neoteric shopping district of Tsim Tsa Tsui. Further up north are Yau Ma Tei and Mong Kok, both more traditional with street markets and old buildings. Tsim Tsa Tsui East and Hung Hom on eastern Kowloon are noted for the milieu of luxury hotels, shopping centers, expensive restaurants, and trendy nightclubs.
Nathan Road

Even at night, the streets of Nathan Road are a kaleidoscopic display of neon signs prominently hanging out of buildings as far as the eye can see. Boutiques, jewelers, electrical outlets, and many more retailers are packed along Nathan Road, as well as the surrounding network streets. Experiencing the brisk and buoyant ambience of the thoroughfare is one encounter few visitors would forget.
Kowloon Park
A few minutes north along Nathan Road is Kowloon Park, which has a manifest of Chinese gardens with lotus ponds, a chess garden, and an aviary that shelters a colorful collection of rare birds. A Sculpture Walk is also located within the park for local artists to exhibit their magnum opus. The garden opens daily from 6:30 a.m. to 8 p.m.
Kowloon Mosque
In the southeastern corner of the park is the Kowloon Mosque. Four minarets and a large white-marble dome highlight the presence of the mosque. The mosque was built in 1984 to cater to the area's 50,000 Muslims, half of whom are Chinese. The original mosque building, which was built in 1894, served the British army's Indian Muslim troops.
Yau Ma Tei
Adjacent to Nathan Road is Yau Ma Tei. The neighborhood intersects Jordan Road and Canton Road, and is embraced by the myriad of jade and ivory shops selling mahjong sets. Traditional bridal shops are available on Shanghai Street, while Ning Po Street and Reclamation Street are famous for paper models of houses, cars, and notes from the Hell Bank that are burnt at funerals, so as to endow the deceased with a comfortable after-life.
Jade Market

Jade Market, at the intersection of Kansu and Battery streets, is crowded with stalls selling jade items. Jade in every imaginable form is available. They are sculpted from large blocks of the raw material to tiny, ornately carved chips. The market opens daily from 10 a.m. to 3:30 p.m. Unless one is an expert on jade, it is better to take along a HKTA information leaflet on jade. Visitors are advised to spend wisely, as not all of the artifacts offered are genuine.
Night Market

Further along Shanghai Street is the famous night market that lights up after dusk. Once an area known for its temples, the night market now features an echelon of palmists, physiognomists, and a fortune-teller whose trained birds select slips of paper to predict the future of your destiny. The area also features endless open-air restaurants, where oysters, prawns, clams, lobsters, and fish are laid out on beds of ice from which diners choose.
Tin Hau Temple
Almost a century-old, the temple sits on Public Square Street. This is the main temple of its kind and is a holy place of worship for all the fisherfolk in the area. Tin Hau is the goddess of the sea and is therefore considered an important deity in the fishing community. In the temple, there are 60 deities sitting near the altar that represents every year of the 60-year lunar calendar. Worshippers deposit Hell Bank notes under the god dedicated to the years of their birth.
A separate temple in the complex is devoted to Shing Wong, the local city god, and the Ten Judges of the Underworld, which are depicted with human torsos and animal heads. The Fook Tak Temple commemorates Fook Tak, an earth god, and Kuanyin, the goddess of mercy. Shea Tan Temple is dedicated as the protector of the community.
Mong Kok
Another one of Hong Kong's most densely populated districts is Mong Kok, which is a lively, noisy, and crowded area. The district is more commonly known as a sanctuary for triad gangs, illegal gambling dens, and assorted sleaze. For this reason, foreigners hardly venture into this area, thus making it a predominantly Chinese neighborhood. Nevertheless, Mong Kok sustains its many traditional characteristics with an array of markets, small shops, and food stalls that have long since disappeared from other areas.
Ladies' Market
This market caters exclusively to women's clothing, accessories, cosmetics, and the like. It is open daily from noon to 10:30 p.m. at Tung Choi Street on the east of Nathan Road. Typically, where there is a market, there are also food stalls selling noodles, seafood, and congee for late-night snacks.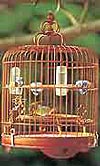 Bird Market
Hundreds of songbirds in exquisitely crafted cages can be seen at this market, which is on the other side of Nathan Road on Yuen Po Street. It is about a 10 minute walk from the Prince Edward MTR Station to reach the market. The market is available daily from 10 a.m. to 6 p.m.