| | |
| --- | --- |
| | Popular Places |
Sha Tin

Sha TinThe metropolis of Sha Tin is one of Hong Kong's fastest-growing New Towns, offering plenty of recreation for visitors' pleasure. Extensive housing projects are now being pursued at areas that were once rice paddies, and the New Town Plaza - a huge shopping mall and entertainment complex - offers cinemas, designer boutiques, and a musical fountain that attracts myriad of mall-goers.
Temple of 10,000 Buddhas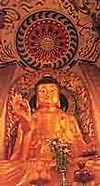 This secluded temple is situated high on the hillside above the Sha Tin Railway Station. Visitors can reach the temple via the 431 steps leading up to the temple's main altar. The altar room has 12,800 Buddha statues along its walls, guarded by huge, fierce-looking statues of various gods, and by similarly fierce watchdogs that are chained up in the daytime. Another nine-story pagoda of Indian architectural design, commemorating a Buddha who was believed to be the ninth reincarnation of Prince Vishnu, is housed in the main complex.
Going further up 69 steps will bring you to the Temple of Man Fat, where you can see the preserved remains of the man who had created this temple and pagoda complex. Yuet Kai was a monk who spent his entire lifetime studying Buddhism and living a meditative life. His foremost concern was to achieve immortality. Upon his death, he was buried but according to Chinese custom, his body was later exhumed to be reburied in its final resting place. When dug up, the body was found to be completely preserved and radiating a ghostly yellow glow. Since there was something paranormal about Yuet Kai, it was decided to preserve his body in a gold leaf for posterity.
Amah Rock
A view of the Amah Rock from the Temple of 10,000 Buddhas is absolutely stunning. The rock was named so because it looks like an amah, or nanny, with a baby on her back. Based on a legend, it is said that a local fisherman once went to sea and did not return with his fleet. His wife waited patiently for his return day after day, but to no avail. After a year, the gods took pity on her and transformed her into stone. Today, the rock is a place of worship for Chinese women and stands as a symbol of women's loyalty and faithfulness.
Sha Tin Racecourse
A popular place for gamblers looking for quick and easy money, the Sha Tin Racecourse is crowded during the months of October to May every year when the racing season begins. Profits from the racecourse are spent on charitable projects.
Hong Kong Railway Museum
The museum opens daily, except for Tuesdays, from 9 a.m. to 4 p.m. It is complete with vintage train carriages housed in a former train station. Close to the museum is Tai Po Kau, a developing town with a population of 250,000 people.