| | |
| --- | --- |
| | Popular Places |
Tsing Ma Bridge
This bridge is a new construction, which links Lantau Island to the mainland for the first time. It is 2.2 km long, with 200-meter-high twin towers visible along much of the highway in the New Territories that leads to Kwai Chung, an extensive complex of container terminals, and the industrial community of Tsuen Wan. Tsing Ma Bridge is the world's heaviest at 55,000 tons and the world's largest road-and-rail suspension bridge.
Tuen Mun
Tuen Mun is a countryside town beyond Tsuen Wan. On the Tuen Mun Highway, visitors are able to enjoy the sights of rural landscapes and New Territories' produce, such as lettuce, cabbage, and carrots grown for the urban market. The town is connected by a Light Rail Transit (LRT) system to the old market town of Yuen Long.
Castle Peak / Ching Chung Koon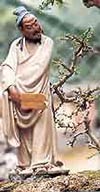 Along the Tuen Mun Highway is Castle Peak, which is adjacent to the LRT station. A small temple sits on the slopes of Castle Peak. It is known as Pei Tu Temple and is dedicated to Pei Tu, a famous monk in Chinese mythology.
According to legends, Pei Tu was a dishonest monk and was forever getting into trouble. One night, he was given shelter by a local farmer and took off in the morning with a prized golden statue. The upset host, together with his counterparts, set off in search for Pei Tu near a bend in the river. The monk then called upon one of his magic skills, took out his wooden bowl, stepped into it, and pushed off across the stream. Those chasing after him could do nothing on horseback, as they watched the monk float away. After that, the rascal monk was given the name 'Cup Ferry', which in Chinese is Pei Tu. When he was finally driven as far as Castle Peak, then called the Green Mountain, he stopped running and established his monastery on this hillside. Hence, it is called Pei Tu Shan, or Cup Ferry Hill.
A temple called the Ching Chung Koon, which also functions as an old folk's home, is located nearby. It houses many Chinese art treasures, including lanterns more than 200 years old and a jade seal more than 1,000 years old.
A library within the temple contains almost 4,000 books that record the history of the Taoist religion. This shrine is dedicated to Lui Tung Bun, one of the Taoist Immortals born in AD789 who became a Taoist missionary after he was inspired by a dream known in Chinese mythology as the Rice Wine Dream. In front of the altar is a 1,000-year-old jade seal kept in a glass case. It is protected by two statues that are carved from white stone almost 300 years ago for a temple in Beijing.