| | |
| --- | --- |
| | Popular Places |
Among all the outlying islands, the greatest in size and possibly in atmosphere is Lantau. With a land mass twice that of Hong Kong Island, Lantau is still rather traditional, keeping with its rural village lifestyles. The place is tranquil and its serenity has attracted many beleaguered urban dwellers. Lantau is also suitable for the building of many Christian and Buddhist monasteries.
Although the island is larger than Hong Kong Island, its population is only about 25,000 people, thus space and peace is guaranteed. The island's calm atmosphere is only disrupted on weekends or public holidays by visitors seeking relief from their hectic schedules.
In Cantonese, Lantau means 'broken head', perhaps because of its rugged dignity that is dominated by Lantau Peak, which rises 933 meters (3,086 ft) above sea level. Lantau is now very much heard of due to the opening of the new international airport in 1998. Chek Lap Kok international airport is on a tiny islet called Chek Lap Kok. Also, new housing blocks have been built in northern Lantau to house the innumerable airport staff and airline employees. Bridges have also been linked to the airport from Kowloon and Hong Kong. Nevertheless, even with the rapid development on Lantau, the island continues to remain rural.
Tung Chung
The northern side of Lantau features this old fortress near a bay that once curved around the pointed southern tip of tiny Chek Lap Kok. Atop a hill overlooking this little harbor is an old fort built in 1871. The fort was once a barrier that protected this town and bay from smugglers, pirates, and scoundrels. To this day, the fort still stands strong with its six old cannons that were the bulwark of the fort.
Po Lin Monastery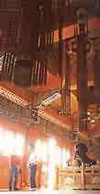 The Po Lin Monastery, located above Lantau's central mountain range, is the region's best known attraction. The world's largest outdoor bronze statue of a seated Buddha (24 meters (79 ft) high) was built in this monastery. The brightly painted red-orange and gold structure was completed in 1990. Visitors to this temple are welcomed to browse the temple grounds and those famished can treat themselves to a hearty vegetarian meal served by resident monks in a huge dining hall.
Not far from the Po Lin Monastery is a tea plantation and teahouse serving a local-style high tea known as the Lantau Tea Garden. The teahouse has rooms for rent, barbecue facilities, and a free camping area.
Heading west from Po Lin is a superb walking path that crosses mountain ridges, small canyons, and rushing streams en route to Lantau's Yin Hing Monastery. The monastery is a haven opulent with traditional Buddhist paintings and statues. Surrounding the monastery are mountains, farmland, and the deep blue South China Sea.