| | |
| --- | --- |
| | Special Interests |
Cave Exploring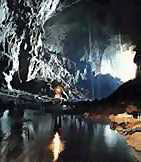 Caves are not hard to find. In fact, they can be found almost anywhere and everywhere in the world. However, great caves are a different matter altogether. One might ask, "But where would I find great caves?" The answer is but a simple one - Malaysia "lah" (local slang), where else! Caves can be found in all Malaysian states. They are home to local fruits, bats, birds, and beautifully sculpted stalagmites and stalactites. But perhaps the best most renown of them is the Mulu Caves of Sarawak, affectionately hailed as the "Magnificent Mulu".

Mulu was already ancient when man came into the world and would not yield its secrets so easily. One of the world's most impressive of its kind, the cave's network stretches some 200 kilometers through the hills and features the likes of the world's largest chamber, Sarawak Chamber, capable of accommodating 40 Boeing 747s or 7,500 buses at any one time. It also houses the world's largest cave passage, Deer Cave, which houses Southeast Asia's longest cave, Clearwater Cave, measuring 75km long. Furthermore, caves that go by the name of Leopard's Cave, Tiger's Cave, Turtle Cave, Snake Cave, Drunken Forest Cave, Cobra Cave, Cobweb Cave, Tiger Back Cave, and Cave of the Winds have their own unique characters, thus making Mulu an unforgettable experience. Scores of other spectacular caves are a speleologist's paradise. Although opened to tourist, the cave network still remains largely unexplored and the jungles around it still defy intruders.
Besides the Mulu Caves, the Niah Caves, also in Sarawak, are famous for their prehistoric paintings and luminous rock formations, whilst the Gomantong Caves of Sabah houses the world's largest bird nesting site, which is the source of the famous bird's nest used in Chinese cuisine. If you want to mix religion with exploration, try Selangor's Batu Caves and its Hindu temple, or the Sam Po Thong Temple of Perak recessed in the limestone caverns of Gunung Rapat. All are safe and inviting places to quench your thirst for exploring.