| | |
| --- | --- |
| | Special Interests |


Malaysia's rugged terrain, dense rain forests, and numerous mountainous regions make it an irresistible destination for off road driving enthusiasts. Mud, heat, sloping hills, and rainstorms add to the challenge in the grueling and exhilarating sport of off road driving. With 58 per cent of the country still under jungle cover, Malaysia's terrain bring out the best of man and machine in a test of skill and endurance under ever changing conditions.

The East Coast offers the best terrain in Peninsular Malaysia for off road driving. Gua Musang in Kelantan, Tasik Kenyir in Terengganu, Endau Rompin in Johor, Tasik Chini and Cameron Highlands in Pahang are the routes most often used for this sport. The area around the Kinabalu National Park in Sabah and Bintulu in Sarawak are places for off road enthusiasts in East Malaysia.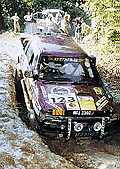 A number of companies offer safe, true to life off road driving packages, which are designed to suit an individual visitor's time constraints. Where needed, food, drivers, and campbeds will be provided by the operators. Although visitors can rent 4X4 cars by themselves, they are advised not to venture into the wilds without a guide and driving partners as the terrain is difficult to negotiate without the help of a seasoned driver. Monsoons, landslides, and rain may also change the tracks and make them impassable or inaccessible. Some operators also offer off road training courses on a one or two day duration with a certificate upon completion. Due to the rugged terrain and the jolts and bumps sustained during a drive, participants need to be of sound body and constitution.
Practical Pointers
Wear light but absorbent natural fiber clothing

Nights in the rainforests may get cooler than expected so bring along a waterproof jacket to keep you warm, as well as protected from the rain

Sturdy shoes are a must especially in competition events. Bring a pair of thongs or sneakers to let your feet breathe and relax when you make camp

Socks are a must to keep your feet dry and unchaffed. · A pair of heavy duty gloves are also advisable

Bring a sleeping bag and a camping tent for overnight shelter

Always check vehicles before starting out on a drive. Pay special attention to tires, which can develop punctures from the rough terrain

Carry a first aid kid with elastic bandages, surgical dressing, antiseptic, burn cream, eye drops, scissors, and tweezers

.