| | |
| --- | --- |
| | Special Interests |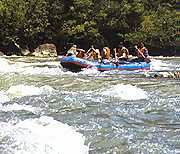 Heart pounding, gut-wrenching, totally exhilarating! How else would you describe a ride on nature's roller-coaster? For some, a run down churning, thundering rivers is the ultimate adventure. For these thrill seekers, Malaysia has rivers that would put any amusement park ride to shame. Though not as enormous or majestic as the Niagara Falls of Canada, Sabah and Sarawak have rivers characterized by long stretches of rapids, boiling with contempt at man's attempts to conquer them. Pahang also has a few of its own. No less scintillating and certainly no less indignant. If you manage to tear your eyes away from the chaos around you, you may just catch some of the magnificent foliage that line these majestic waterways, replete with bemused jungle folk gazing down at your thrill seeking and often thought of as insane excursion. Guides are always on hand to assist. The journey down the rapids can be on an inflatable dinghy, bamboo raft, or the traditional sampan (dugout canoe).
The best river wilds can be found in Sungai Padas, Sungai Papar, Sungai Tamparuli, Sungai Kiulu in Sabah, Sungai Skrang in Sarawak, Sungai Tembeling and Jeram Besu in Pahang, and Sungkai river in the State of Perak.