| | |
| --- | --- |
| | Special Interests |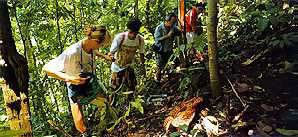 Malaysia's primeval and largely unexplored rainforests offer intrepid trekkers endless opportunities to observe exotic and rare tropical flora and fauna. Striding through the forest, the lush vegetation parts before you offers glimpses of tapirs grazing in the undergrowth. In the background, a massive Rafflesia rises from the forest floor, radiant in its glory at being the world's largest flower. Crossing swaying hanging bridges will be a feat of balance, and there is nothing an energizing dip in a crystal clear rockpool next to a cascading waterfall cannot fix. Refreshed and re-inspired, push onward through the steaming vibrant ecosystem that stretches out before you, welcoming, embracing, and teaching you about nature at its most natural.
Trekking excursions are centered in the country's National Parks and Forest Reserves. A fine example would be the Endau Rompin National Park, which encompasses the watershed of the rivers, Endau in Johor and Rompin in Pahang, and comprises some 488 sq. km. Lush and relatively untouched, it is one of the few remaining lowland forest in the country. Here, there are some 26km of jungle trails within the park, the most well trodden path being the grueling 16km trail from the base camp at Kuala Jasin to Batu Hampar and Buaya Sangkut with numerous crossings of fast flowing rivers. At Buaya Sangkut, a waterfall cascading down through five levels presents a spectacular visual sight. Also take this opportunity to study nature in its own backyard. Given the diverse variety of species and habitat in the area, this can be a very absorbing activity indeed. Inhale the heady perfume of the "Mussaendra Mutabilis", a woody climbing plant with fragrant flowers, used in traditional scents for the hair and clothes. Observe how the famous pitcher plant traps the unwary insect within its enticing water-filled sacs and see how millions of ants make their homes in tiny chambers within the "ant plant".