| | |
| --- | --- |
| | Popular Places |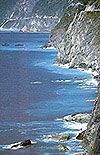 Do not be surprised to discover that everything in the east is different from the west and north. An example would be the sunrise, which occurs at around 5 a.m., shedding light over the eastern region, while the west side still slumbers in darkness. The eastern coast is situated on the Pacific side of the Central Range, and is incomparable in its profile of land, sea, and sky. East Taiwan maintains its reputation as the island's cultural region where the flavor of human feelings retains its natural taste.
Population of the eastern coast enjoys a different kind of lifestyle from those in the other areas of the island. The people here are early-risers and early-sleepers and have dark skin due to exposure to the strong sun. The locals are rather stalwart than the gentler regions of Taiwan. The agriculture and fish industries are the main economic pillars in the east.
Weather is also different in the east coast. Unpredictable and harsh, the seas can get rough, hot springs are hotter, and the mountains are greater.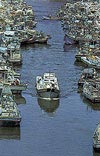 Journey through the east begins first in Suao, Taiwan's fifth international harbor. It is located south along the coast of Toucheng, and is linked with Taipei via Highway 9. Getting there by train is also convenient as the railway links Taipei to Hualien.
Suao is a well-organized seaport that has facility grounds occupying the northern part of the harbor town. However, most of the local trading is concentrated two kilometers south, in the old-fashioned coastal enclave called Southside Suao. Some of the island's interesting fishermen's wharf is found here in Suao. Antique fishing boats, shouting fishmongers, and the blend of dead marine life sets the typical scene of the wharf. Good seafood can be found here in the restaurants along the wharf's main street.