| | |
| --- | --- |
| | Popular Places |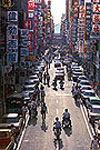 Taipei, the capital city of many wonders, is the main stage of ancient and modern Chinese culture combined. Taipei's metropolitan outlook coexists along with historical and traditional magnum opus that is definitely a sight to relish. There are many interesting sights to see in the city itself that would take more than a day to cover.
Located on Peian Road, this shrine is open daily to the public. The structure of the shrine follows the palace style of the Ming Dynasty, duplicating exactly the arched portals of the main gate, a vast courtyard, guest pavilions, drums, and bell towers. The shrine is sanctified to the lost heroes of China's war. The names of those fallen heroes are inscribed beside murals at the main shrine, depicting their feats. A guard is recruited to guard the shrine and a new guard takes over every hour. The late Chiang Kaishek often visited the shrine and spent long hours walking around the halls and grounds of the Martyrs' Shrine.

The temple is situated on Talung Street, southwest of the Grand Hotel. Compared to the city's other temples, Kong Miao is a serene retreat, with no intrusions of worshippers praying to their gods, the dissonance of music instruments, and garish idols. The temple's exquisite architecture and placid structures befits Confucius' virtues of peace and quiet.

The memorial, which commemorates the founder of the Republic of China and mentor to the late Chiang Kaishek, is located in the eastern part of the city on Section 4 of Jenai Road. The building flaunts a sweeping, curved-up Chinese roof made lustrous by yellow tiles. At the main lobby stands a six-meter-high (20ft) bronze statue of Sun Yatsen.