| | |
| --- | --- |
| | Popular Places |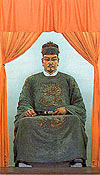 The shrine sets in a garden compound with tropical trees and breezy pavilions. It was built in 1875 by imperial decree from the Manchu Qing court in Beijing, which denoted that the Ming leader had been forgiven and has been consecrated as a national hero.
Koxinga's statue poses in the central shrine hall, accompanied by two of his most trusted generals. In the corridor are other 114 loyal officers who followed him to Taiwan. At the back of the shrine is an altar dedicated to Koxinga's mother, escorted by young princes. A museum next to the shrine exhibits antiques, pottery, paintings, documents, and costumes reflecting the life and times of Koxinga.
Japanese occupation in Taiwan resulted in the damaging of the shrine, which was only reconstructed in 1962, after World War Two. Major festivals to commemorate Koxinga are held on February, April, and August. The shrine opens daily to visitors of Tainan.

The temple, the oldest for the sage in Taiwan, was built in 1665 by Koxinga's son, Cheng Ching, as the heart for the Chinese cultural renaissance in Taiwan. The temple is unique to other Confucian temples around the island due to its classical architectural style.
Set in a serene garden compound, the temple features arched gates and corniced walls that divide the building into a few courtyards, each with its own halls and special functions. Visitors can find Confucius enshrined in the central Hall of Great Success, with a gilded stele of stone, festooned with fresh flowers and incense. Other shrines of Confucius' most distinguished disciples are found within the temple halls. Every year, Confucius' birthday is celebrated with colorful ceremonies and the parades of ancient costumes, books, and musical instruments.