| | |
| --- | --- |
| | Best of Hong Kong |
Architectural Style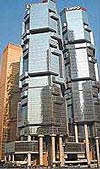 Hong Kong city boasts of a number of uniquely designed buildings, each with its own distinct architectural élan. Western and eastern styles influence the designs of these establishments, bearing in mind the principle of functionality. Buildings are planted on reclaimed land, then demolished as soon as they become unprofitable. Hong Kong's architectural characteristics are mostly temporary, pragmatic, profit driven, and utilitarian yet extravagantly glossy.
As land space is limited in Hong Kong, visitors will notice that nearly more than half the area of Hong Kong Island is dominated by tall apartment and condominium buildings. Some are extremely expensive, while others are relatively cheap. Many of Hong Kong's old treasures have been demolished to make way for newer and more modern designs. However, a few antiques still remain, such as the Peninsular Hotel, which is one of the grandest hotels in Asia. The Repulse Bay Hotel, a gracious pre-war single-story structure with an ambience in tune with its slowly moving ceiling fans, was demolished but was later rebuilt to its exact likeness.
Hong Kong's modern architecture has, without a doubt, been shaped by the demands of feng shui. For example, the front door of the Mandarin Oriental Hotel is aslant to keep evil spirits away, as they travel in straight lines. The sharp, protuberant corners on the Entertainment Building were chamfered off at a cost of several million dollars to prevent malignant forces from being directed into a neighboring office block.
When roaming around the city streets, visitors should take note of construction cranes or Hong Kong's characteristic bamboo scaffolding. Although the country's architectural style is one of the world's best, the building methods continue to remain traditional.