| | |
| --- | --- |
| | Best of Hong Kong |
Art & Craft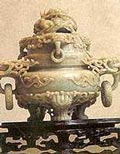 For centuries, the Chinese arts and craft have formed a significant part of China's total exports. In Hong Kong, ancient Chinese arts and craft are widely available in several department stores and retailers in Wan Chai, Kowloon, and in Hong Kong Island. Hong Kong's close proximity to China enables these artifacts to be brought in for sale. Furthermore, the cost of manufacturing in Hong Kong is much too high.
Porcelain, embroidery, brocade, carpets, jade products, carvings (wood, bamboo, ivory), and paper decorations called 'scissor-cuts' are considered traditional Chinese arts and craft.
The ancient embroideries and brocades have been of excellent quality since the days of trade on the Silk Road. The Silk Road was the route for most trades between China and other countries. China's embroidery and brocade make up the largest part of the arts and craft industry.
Paper decorations or 'scissor-cuts' come from rural China, and is mostly made by women. Before the Lunar New Year, the women will make various types of colorful paper decors to beautify their windows. Scissor-cut patterns include animals, fruits, flowers, and characters from ancient Chinese folktales or operas, often with themes of good harvests, prosperity, and happiness. It is not very difficult to make these paper decorations. The only materials needed are scissors (naturally!), knife, and paper. Different regions of China have their own creative styles, from the intricately delicate to overly emphasized details.
Carvings are another traditional Chinese art. The Chinese have sought the use of various materials in their carvings - jade, wood, bone, rock, and bamboo. Dating back to the Ming Dynasty (1368-1644), the jade carvings from Beijing are the more popular pieces. Ivory balls featuring legendary figures come from Guangzhou, stone carvings from Shoushan in Fujian Province, bamboo carvings from Huangyan in Zhejiang Province, and the high-quality ink slabs are made in Duanxi and Zhaoqing in Guangdong.
The most prominent porcelain ware is from Jingdezhen County in Jiangxi Province of central China, which has earned the moniker the 'capital of porcelain'. The blue and white porcelain is fine and smooth like those made in the times of the Yuan Dynasty. The colorful styles were also inherited from the rich artistry of the Qing Dynasty during its most auspicious period.
There are new crafts from China that have prevailed these days. Artificial decorative flowers made in brocade, silk, paper, feather, plastic, and synthetics are becoming more fashionable. Miniature paintings on shells, feathers, tree barks, deer horns, and even thin strands of wheat straw are also recommended souvenirs and gift items.