| | |
| --- | --- |
| | Best of Hong Kong |
Lion/Dragon Dances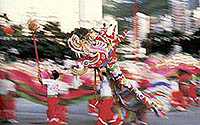 Lion dances are famous world-wide. This colorful display of large lion costumes dancing about is especially popular during festive occasions. This 'kung-fu' style fanfare is sometimes performed on special events such as corporate anniversaries and the opening of new businesses, as it is said that lion dances can bring good luck. The lion is considered a holy animal and seen as a spirit that has its own importance in Chinese mythology. Lion dances are usually accompanied by the blasting of firecrackers to scare away evil spirits.
At times, lion dances are complemented with dragon dances. Dragon dances are different from lion dances in the way it is performed. The difference is in the way the dragon is held atop by a group of performers who move the giant puppet from the outside by walking in simultaneous patterns to make the dragon appear as if it is flying. Lion dances, on the other hand, are performed by a crew of two who move the large cloth or paper puppet from inside. The movements of the lion head, eyes, mouth, and ears are not restricted.
Two types of Chinese lions exist in this exclusive tradition: the northern and southern lion. The differences are in their appearance and movements. The northern lion is yellow, furry, and has a less movable mouth, while the southern lion has a mobile mouth and a more colorful body with shorter fur.