| | |
| --- | --- |
| | Popular Places |
Bank of China Tower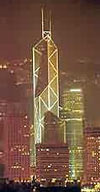 This 368m structure was designed by the renowned Chinese-American architect, I M Pei. It has two 'chopsticks-like' antennae pointing up from the roof and its sharp angles point directly at other financial institutions, which makes for bad (or good, depending on which side you're on) feng shui.
A park in the foreground, Statue State, was once festooned with a statue of Queen Victoria, which was replaced by a statue of Sir Thomas Jackson. The latter was an Englishman who had administered the Hongkong and Shanghai Banking Corporation for 30 years at the end of the 19th Century.
Star Ferry Pier

The Star Ferry has been plying the waters between Hong Kong Island and Kowloon for a century. A good place to begin a tour of Central, the green and white ferries, which operated since 1898, are Hong Kong's best bargains. The upper decks are actually not that expensive, but a budget traveler may prefer the lower decks.
At the Star Ferry pier, there are bright-red rickshaws pulled by old Chinese men that cater to the tourists. These two-wheeled conveyances from Japan have existed in Hong Kong since the late 1870s. Today, however, rickshaws are only available for a quick ride around the block or as a backdrop for photographs.
Jardine House

This singular erection with over 1,700 round windows was given a Chinese nickname, 'House of a Thousand Orifices'. The house was a model for the Struan family's headquarters in James Clavell's 1981 novel, Noble House. Behind the house are the General Post Office (GPO) and the Government Information Service Bookshop.
Exchange Square
Opposite the Jardine House are the shiny towers of Exchange Square, home to the Hong Kong Stock Exchange. Located north of the Square is the Central Reclamation Phase 1, which is one of the world's largest building sites. The land allows Hong Kong's real estate developers to charge exorbitant rents for harbor-front office towers. Also, the new Airport Railway's Hong Kong Station and Outlying Districts Ferry Pier is located here at the reclaimed land area. The Ferry Pier enables residents to take a ferry to one of the outer islands.
Queen's Road Central
Queen's Road Central was originally the 'main street' of Central, but a small footpath in front of the Queen's Road godowns (warehouses) and counting houses was turned into Des Voeux Road, which eventually upstaged Queen's Road as Central District's main boulevard. At the west of Queen's Road is the first branch of Lane Crawford, one of the most prestigious department stores in Asia. Along the western side of Queen's Road are dozens of ship chandlers, where ships docked and took on stock decades ago. Farther from this site, Queen's Road becomes less flamboyant, molding down from fancy department stores to small traditional craft shops as you head toward Western District beyond Central Market.
Li Yuen Street
Connected to Queen's Road and Des Voeux Road is Li Yuen Street East and West. These narrow alleyways are aligned with stalls and shops that sell clothing, fabrics, and counterfeit designer fashion accessories. The environment deviates from the more upscale high-rises located on the nearby larger avenues. Bargaining is common here in these smaller streets.