| | |
| --- | --- |
| | Popular Places |
Western District
Central Market
Western District is located to the west of Central and is the area least influenced by Western culture. The Central Market is a good place to start exploring the Western District. One will find, across the market, a branch of one of the most popular emporiums that sell Chinese products, the CRC Department Store. Consisting of six floors, the store vends all kinds of inexpensive Chinese artifacts and clothing, as well as dearer items like ginseng roots and painted snuff bottles. These products are manufactured by cheap labor across the mainland border.
Hillside Escalator

Take a ride on the Hillside Escalator (Central to Mid-Levels Escalator), the world's longest outdoor escalator, to view the sights of the Western District, as well as an intriguing glimpse of Hong Kong life. The escalator stems from Central (near Central Market) at Connaught Road and stretches nearly halfway up Victoria Peak. It finally ends at Conduit Road.
As you ascend to the top, you will be able to view the narrow streets and Chinese apartment blocks that lead from Central to Western District. Completed in 1993 and at a cost of HK$32 million, the escalator is 800 meters in length and was built to allow commuters from Mid-Levels to saunter to and from work in Central, thus easing traffic congestion. The one-direction escalator, which carries almost 34,000 people daily, goes down before 10 a.m. and up after 10 a.m.
Staunton Street
Before reaching the final destination of the escalator at Conduit Road, get off at Staunton Street to start a walking tour. Labeled as 'Hong Kong's SoHo' because it is south of Hollywood Road, Staunton Street and nearby Shelly and Elgin streets have become the core of Hong Kong's new alternative cafe culture. Thanks to the escalator, this previously inutile site is now lined with the hottest restaurants in town, offering a versatile coalesce of ethnic cuisine - Vietnamese, Nepalese, Portuguese, Cajun, and French.
Staunton's Cafe is a terrific venue to hang out and enjoy a Western-style cup before heading into the less neoteric Western District.
Beyond Staunton Road lies the former headquarters of the Xingzhonghui or Revive China Society, which was the revolutionary organization established by Dr Sun Yatsen. Marked by a red sign, the institution was dedicated to the overthrow of the Qing Dynasty in China. This is one of the 13 sites of interest in Central and Western districts for the Sun Yatsen Historical Trail.
Hollywood Road

Hollywood Road can be connected from Elgin Street or Peel Street. The street is known for its myriad of antique and furniture shops selling rattan, Blackwood chests, snuff bottles, and porcelains. Most of these shops are not like any other antique or furniture shops. Browsing through is not enough; one should explore and be vigilant of the items displayed on the shelves and dark corners. For the most part, a lot of the serious collector's items are not cheap. But there are a few shops that sell bric-a-brac, such as old Chinese books and records, posters, and badges of Chairman Mao.
Man Mo Temple

Situated west of Hollywood Road and at the corner of Ladder Street, the temple is open daily from 7 a.m. to 5 p.m. Built in 1842, this temple attracts dozens of visitors, excluding the regular worshippers who throng the temple carrying thick, scented clouds of smoke from their joss sticks. The immense incense spirals, which dangle from the ceiling, can burn for weeks. 'Man' is the god of civil servants and of literature, while 'Mo' is the martial arts and war god. Statues of the legendary Eight Immortals stand guard outside the temple with two solid-brass deer adorning the main chamber. There are three sedan chairs encased in glass at the altar.
Ladder Street and Cat Street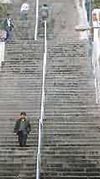 When in the Western District, go down to Ladder Street and Cat Street - two of the most fascinating of all local shopping areas. Ladder Street askew down steep inclines from Caine Road to Hollywood Road, and down again to Queen's Road Central. This street is 65 meters long and houses some of Hong Kong's oldest abodes, including old shuttered buildings with wooden balconies and elaborate carvings.
Cat Street (Upper Lascar Row) is at the intersection between Ladder Road and Hollywood Road. Along this street are vendors selling bric-a-brac, along with real and fake antiques. Over here, visitors are allowed to demonstrate their bargaining skills. Cat Street was once famous for seamen's lodging houses and brothels, and it was a hangout for criminals and low-life characters of all kinds.
Fung Ping Shan Museum
Housed within the University of Hong Kong campus grounds, the Fung Ping Shan Museum opens from Monday to Saturday, from 9:30 a.m. to 6 p.m. This is one of the oldest and the best places to see traditional Chinese arts and craft. Visitors will be amazed by the diverse collection of pottery and porcelain that dates back to the seventh century. The museum's pride is the world's largest collection of bronze ware from the Yuan Dynasty.
Queen's Road West & Des Voeux Road West
These two streets are particularly noted for their aromatic Chinese medicine shops, rice traders, traditional wedding dress stores, and merchants selling Chinese paper lanterns and incense. Other fascinating items include a range of dried seafood such as abalone, sea cucumber, and shark's fin, which can sell for several thousand dollars a kilogram. Between Queen's Road and Des Voeux Road is the colorful Wing Lok Street. Over here, shops sell herbs, ancient medicines, preserved seafood, and tea.
Man Wa Lane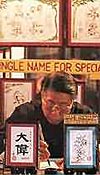 Opposite of Bonhan Street and Jervois Street is Man Wa Lane, which is lined with chop-makers who carve intricate name stamps from blocks of stone. These chops are a traditional Chinese craft that are still used by businesses and personal individuals. The stamps are made from small blocks of ivory, jade, stone, or wood and are divided into male and female styles. Besides stamp carvers, there are calligraphers, jade-carvers, opera costumes, fan-makers, pottery-shapers, and egg roll bakers.
Western Market

At the corner of Connaught Road Central and Morrison Street is a red-brick Edwardian-style building known as Western Market. Opened in 1906, the market operates as a food market and has been doing so since 80 years ago. Recognized as a historical landmark, its elegant architectural features were preserved and reconstructed. In 1991, the establishment was transformed into a shopping center. The center offers a variety of handicrafts, fabric and souvenir stalls, as well as a Chinese restaurant on the top floor.